This is an archived article and the information in the article may be outdated. Please look at the time stamp on the story to see when it was last updated.
DENVER — The city and county of Denver and RTD have put forth a reconstruction design plan of the 16th Street Mall that would expand sidewalks for walking, cafe seating and other activities, and add more trees, it was announced Wednesday.
The redesign of the pedestrian mall in downtown would move transit lanes to the center or offset-center of each block as a way to enhance the mall experience for visitors while improving pedestrian safety and mobility.
The proposed plan would update and modernize the 35-year-old mall's infrastructure while maintaining its look.
The redeisgn of the mall that from Broadway northwest to Market Street would cost from $90 million to $130 million. Construction would begin next year or early 2020 and be completed by 2022.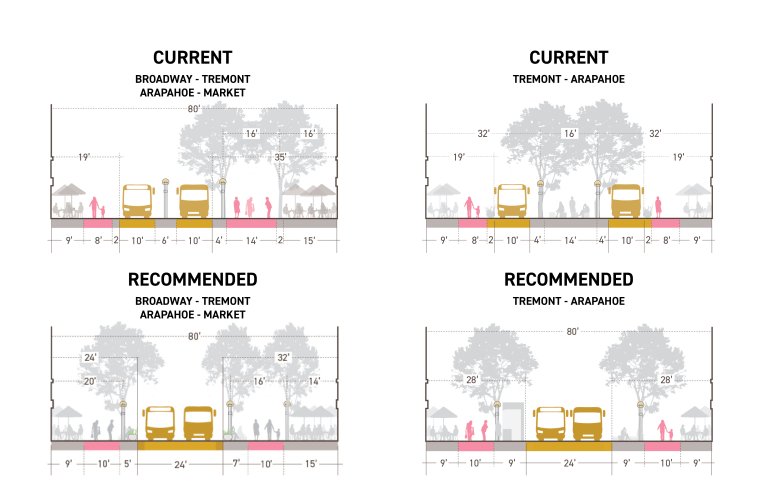 "We're keeping the best parts of the mall, while revitalizing an amazing public space and public amenity," said Brad Buchanan, executive director of Denver Community Planning and Development.
The Free MallRide buses will remain in adjacent lanes in the center of the mall.
"As pedestrian traffic and ridership grow in this crucial corridor in the years ahead, our agency is pleased to be working thoughtfully with our partners in determining the best path forward," RTD CEO and general manager Dave Genova said. "We believe the public will appreciate the changes that have been proposed."
The design also includes more trees than currently exist.
"The 16th Street Mall is Denver's Main Street, serving millions of people each year. We are proud to have worked with our mall partners and stakeholders to develop a clear recommendation for its sustainable and successful future," said Tami Door, president and CEO of the Downtown Denver Partnership.
Funding would come several sources, including general obligation bond funds, tax increment financing and Federal Transit Administration grant funding.
The city and RTD will host open houses where the public can learn more and ask questions. It will be held from noon to 1 p.m. and 5 p.m. to 6 p.m. on March 8 at the RTD board room (1660 Blake St.).