This is an archived article and the information in the article may be outdated. Please look at the time stamp on the story to see when it was last updated.
DOUGLAS COUNTY, Colo. — The Littleton Police Department and the Douglas County Sheriff's Office released body camera footage from the officer-involved shooting that happened Friday.
Investigators also identified the armed suspect as 25-year-old Deyon Marcus Rivas-Maestas and the deputy as Brad Proulx.
According to the sheriff's office, Proulx spotted a driver in SUV near County Line Road and Santa Fe Road that appeared to need assistance.
When Proulx pulled over to offer help, Rivas-Maestas got out with a rifle, investigators said.
The video released Wednesday shows a clear shot of Rivas-Maestas approaching the deputy an "AR-15 type rifle."
"The deputy gave the subject verbal commands," the sheriff's office stated. "The deputy feared for his life and deployed his service weapon."
Investigators said the deputy was "forced to take action."
"A guardian had to become a warrior in a split second," investigators said.
"It certainly could have cost the deputy his life," Littleton police Cmdr. Trent Cooper said after the shooting.
"You know, it just goes to show how unpredictable, how the situations are where this deputy thought he was making a courtesy traffic stop and helping a motorist in need and a short time later, he's involved in an officer-involved shooting."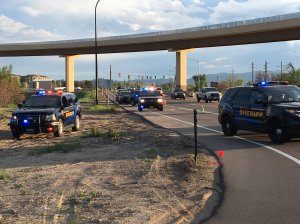 Other deputies arrived and provided emergency medical aid to the suspect, who was then transported to a hospital.
Rivas-Maestas was shot once in the arm and required surgery.
He was transported from the hospital to the Douglas County Detention Center about 1 p.m. Wednesday.
Investigators said he would be charged with first-degree assault.