This is an archived article and the information in the article may be outdated. Please look at the time stamp on the story to see when it was last updated.
DENVER — 25 years and growing is how you might describe the Cinco de Mayo celebration on Santa Fe Drive.
The brain child of the folks at Newsed Development, the idea was to bring some fun and a celebration of culture to the 'gateway' to downtown Denver. Over the years, the festival outgrew Santa Fe and now calls Civic Center Park home.
"We have three stages, cultural, children's, and funk & soul, where all kinds of music and dancing will happen," said Renee Ortiz, the event's coordinator. "We will begin on Friday night and run through Sunday night. There will be a children's carnival, Jammin' Chihuahua races, and the annual Chili Bowl Cook-Off."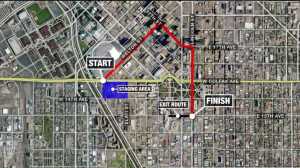 Streets in and around Civic Center will be closed due to the festival (see map) Bannock will be closed between Colfax and 13th Avenue, 14th Avenue between Cherokee, and Broadway will shut down and Broadway between Colfax and 13th will also be cut off to traffic.
On Saturday morning, the parade will run between Welton and Colfax then head up 17th Street to 17th Ave. then proceed down Lincoln to 13th before heading into Civic Center.
RTD and Light Rail are great options for getting to and from the event, they are also wonderful designated drivers for those who might have a bit too much to drink.
Police say Federal Blvd. will be kept open between Florida and W. 38th as long as traffic flows smoothly.
If traffic begins to back up, they will block off access to side streets along Federal to minimize impact on residents and businesses along Federal.
And if things get too crowded, police will only allow people to cross Federal at Evans, Jewell, Florida, Mississippi, Alameda, US-6, W. 10th, and major intersections north of W. 20th Avenue.
If you have had too much to drink, see an event staff worker to find out which sponsors are offering to pay for a cab ride home, just to keep you safe.