This is an archived article and the information in the article may be outdated. Please look at the time stamp on the story to see when it was last updated.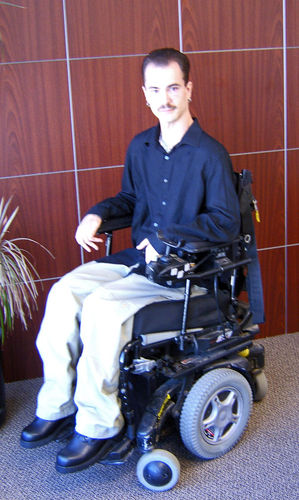 DENVER — A Dish Network telephone operator who was fired when he failed a drug test is suing his former employer, saying they infringed on his right to use medical marijuana away from the office.
There was no evidence that Brandon Coats, a paralyzed medical marijuana user, was impaired while he was on the clock. And that's why he said his legal usage of medical marijuana should not have cost him his job in May of 2010.
Coats' case is pending in the Colorado Court of Appeals. If he loses the case, it could mean 175,000 individuals using medical marijuana in Colorado are in jeopardy of losing their jobs.
If he wins, it could mean big things for pot users.
A win for Coats could also mean tough luck for employers clinging to drug policies that are still seeking to prohibit their employees from using marijuana entirely in the wake of Amendment 64's passage.
In the past, the courts have ruled that medical marijuana patients do not have special rights to transcend a workplace drug policy that prohibits the use of the substance.
With Colorado voting to legalize marijuana for recreational use for anyone over 21 with the passage of Amendment 64, those past rulings could become irrelevant — especially if Coats wins his case.
And the way Coats' attorneys are framing their argument might give this new case strength where older, similar cases faltered. That's according to Vance Knapp, an attorney for the Denver firm Sherman & Howard who specializes in employment law.
Partaking in legal activities like smoking or drinking alcohol away from the office can't get an employee fired, according to the Colorado Lawful Off-Duty Activities Statute. Coats' attorneys are arguing that an employee's lawful use of medical marijuana away from the office, which has been legal since 2000 in the state, should also be protected by the statue.
"They may have found some wiggle room (with that argument)," Knapp said.
The again, maybe not.
Attorneys for Dish Network argue that marijuana is still illegal at a federal level. With that being the case, they say its usage should be ineligible for protection under the Lawful Off-Duty Activities Statute.
If nothing else, Knapp said, there will be a lot of sensitive issues at stake when Coats' case finally goes to court.
"These are things that employers are definitely concerned about," Knapp said. "For policy reasons, we want to make sure we have a safe workplace. And obviously, that has to be balanced against employees' rights in Amendment 64."