This is an archived article and the information in the article may be outdated. Please look at the time stamp on the story to see when it was last updated.
COLORADO – Alyson Kirk completed a monumental goal on Sunday when she stepped on the summits of Peak 8 and Peak 9 above Breckenridge.  She became only the second woman on record to summit all 1,313 Colorado peaks taller than 12,000 feet.
Think about that for a second.  Alyson completed all 676 12ers, 584 13ers, and 53 14ers.  Talk about a once in a lifetime achievement!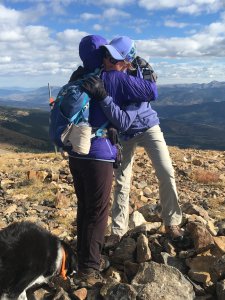 Alyson joins her husband John Kirk on a very short list.  In total, only seven people have climbed all Colorado peaks above 12,000 ft.
Mike Garratt (unknown)
Ken Nolan 9-7-2003
Jack Dais 8-29-2004
Teresa Gergen 7-10-2010
Kirk Mallory 7-22-2016
John Kirk 9-11-2016
Alyson Kirk 9-17-2017
I asked Alyson what all this means to her and what kept her going.  She quoted Christopher Reeve, "So many of our dreams at first seem impossible, then they seem improbable, and then, when we summon the will they soon become inevitable."
Alyson also went on to say, "It was not too long ago when I climbed my first 14er – Mt. Massive. It only took that one summit to turn my life into a peak bagging frenzy this past decade.  Despite the long drives, lack of sleep, lack of showers, miles of suffering, endless elevation gain, deadfall, bushwhacking madness, dodging lightning and hail, and trying to not get eaten by a bear, I still wouldn't trade these experiences for the world."