This is an archived article and the information in the article may be outdated. Please look at the time stamp on the story to see when it was last updated.
LAKEWOOD, Colo. — An hourslong standoff at a West Colfax Avenue motel ended peacefully Wednesday morning with the arrest of a homicide suspect and two other people, the Lakewood Police Department said.
Police went to the Denver West Inn at 7150 W. Colfax Ave. just east of Wadsworth Boulevard about 8 p.m. Tuesday seeking Andrew George Gutierrez, 46, who was wanted in the May 15 killing of Eric Schnaare, 41, at an apartment in the 1400 block of Harlan Street.
The regional SWAT team was called out and negotiations began with Gutierrez, who was in one of the rooms with two other people. After several hours, negotiators took Gutierrez out of the room and placed him into custody.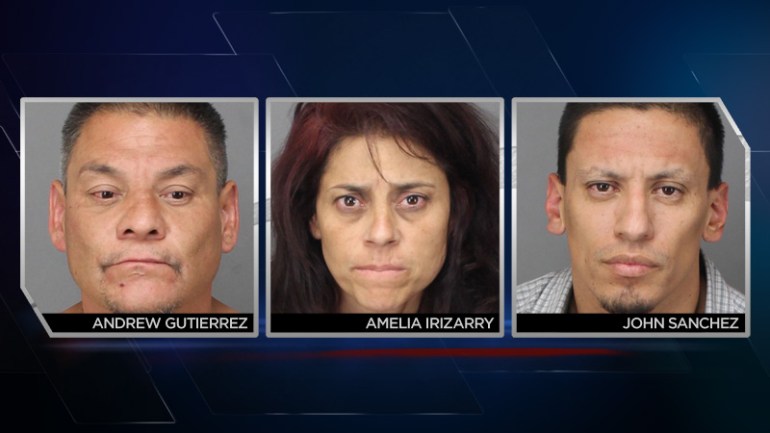 A man and a woman were also taken out of the room and into custody for questioning. Gutierrez faces multiples charges, including first-degree murder. The man and the woman also taken into custody are not believed to be involved in the Harlan Street homicide.
Police said on May 20, two suspects — John Orlando Sanchez, 40, and Amelia Marie Irizarry, 44 — were arrested in the 4500 block of Stuart Street in Denver. Sanchez and Irizarry were taken into custody on unrelated warrants as well as charges in the homicide on Harlan Street.
About 20 people staying at the motel were displaced from their rooms and were asked to leave until the situation was resolved.
People staying in the motel said they were woken by police on a loud speaker announcing a warrant for a man's arrest and asking people to come out of their rooms.
Those people describe stepping out and seeing about 50 armed officers and SWAT team members in night-vision goggles and full riot gear in doorways and stairwells around the building.
People have been carrying their personal belongings, children and dogs outside. A bus was brought in for the people to wait in until the situation gets resolved.
[protected-iframe id="1c74a93e48b81579a0b1f4ed827f515a-29290497-62452405″ info="https://www.google.com/maps/embed?pb=!1m18!1m12!1m3!1d12272.432040428746!2d-105.06935010446183!3d39.73722457775813!2m3!1f0!2f0!3f0!3m2!1i1024!2i768!4f13.1!3m3!1m2!1s0x876b8726e1d83cdd%3A0xa48b12c54496bcb2!2sDenver+West+Inn!5e0!3m2!1sen!2sus!4v1432725919124″ width="100%" height="450″ frameborder="0″ style="border:0″]