This is an archived article and the information in the article may be outdated. Please look at the time stamp on the story to see when it was last updated.
EDGEWATER, Colo. -- Lakewood police admitted Friday afternoon that an officer killed in the line of duty Friday morning was shot by a fellow officer in a friendly fire incident.
The officer, identified as James "Jim" Davies, 35, was responding to a call of shots fired around 1:30 a.m. Friday morning. He was apparently mistaken for an assailant by a fellow officer and killed, said police spokesman Steve Davis.
"This is the worst of the worst," Davis said, fighting back his emotions at a 7 a.m. press conference.  "This is the first Lakewood Police officer we've lost in the history of the department. And that goes back to 1969."
"The words shock and heartbreak do not even begin to be adequate," Davis said.
"This is a tragedy for the entire city and a difficult situation," mayor Bob Murphy told FOX31 Denver late Friday afternoon. "Our sympathies and prayers go out to the family of James Davies."
According to Lakewood Police, officers were near the intersection of West 20th Avenue and Eaton Street investigating a report of a prowler around 1:30 a.m. when they heard "a multitude" of gunshots coming from a home in the 1900 block of Eaton Street, said Davis.
Several officers from Edgewater, Denver and Lakewood police departments responded. Police found the gunfire was coming from a man outside a home at 1940 Eaton St. who was firing into the air, Davis said.
Police arrested the man and two others in the home, police said. After the suspects were secured and brought outside, officers set up a perimeter outside the home "not knowing if we had more people inside that house," Davis said.
There were three "vicious" dogs inside the home at the time, Davis said, and officers were making arrangements to remove them safely.
"Meanwhile you've got many officers taking up positions around the house, in the back of the house, in neighboring yards," Davis said.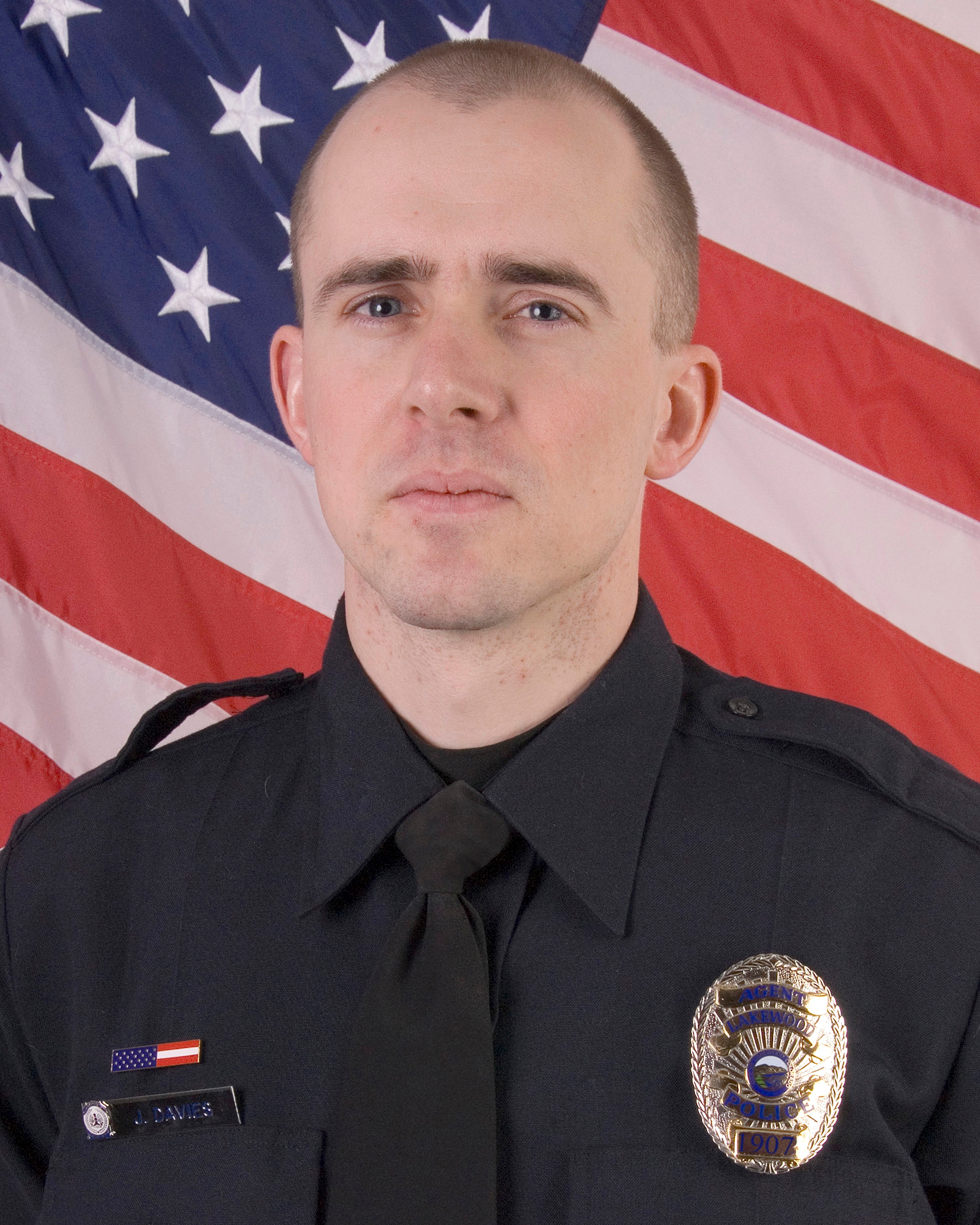 Officer Davies was in the backyard of the house and "there were other officers on the other sides of the fence and he was mistaken," Davis said. "He was seen and mistaken for an assailant with a gun."
Davis said the officer that shot Davies gave several verbal commands to him but that Davies did not respond. "Officer Davies was, I'm sure, confused by being a police officer in uniform. He probably didn't think he was the one being addressed, and then the shots were fired." Davis said.
"I don't know any ingredient that I could put into this story to make it more tragic than this," Davis said.
Davies, who had been with the department for more than six years, had a wife and two children. The department's chief spent part of Friday consoling Davies' family.
"You can imagine the anguish that the other officer is going through right now," Davis said. "We feel like we have two victims in the department, to be quite frank. That officer is really having a difficult time with what happened last night."
The incident will be investigated by a team of detectives from several agencies in Jefferson County, and a district attorney would decide whether to charge the firing officer after getting the investigators' report, Davis said.
Police didn't say what prompted the gunfire that attracted the officers to the home. The three people who had been detained hadn't been arrested as of Friday afternoon, Davis said. He said he didn't know whether they would be charged.
[googlemaps https://maps.google.com/maps?f=q&source=s_q&hl=en&geocode=&q=1940+Eaton+St,+Lakewood,+CO&aq=0&oq=1940+Eaton+St.&sll=38.997934,-105.550567&sspn=7.672971,11.810303&ie=UTF8&hq=&hnear=1940+Eaton+St,+Lakewood,+Jefferson,+Colorado+80214&t=m&z=14&ll=39.746943,-105.058729&output=embed&w=425&h=350]