This is an archived article and the information in the article may be outdated. Please look at the time stamp on the story to see when it was last updated.
WASHINGTON — Sylvie Lamontagne of Lakewood will be among the final 10 students competing in the National Spelling Bee finals on Thursday night.
Lamontagne, an eighth-grader at Creighton Middle School, is in the finals for the second year in a row. She finished in a tie for ninth last year.
The 13-year-old correctly spelled "sylvilagus," and "Ayurveda" on Thursday as the field, which started with 285 spellers, was whittled.
Also competing was 10-year-old Cameron Keith, of Longmont who attends Friends' School Boulder.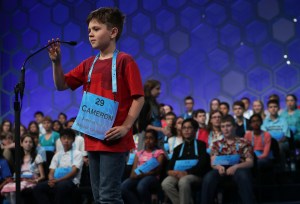 He was the youngest competitor last year and made it to the final 45 this year before he bowed out after misspelling "noncompos," using an "A" for the final "O."
The final rounds begins at 6 p.m. and will air on ESPN. The winner will claim more than $42,000 in cash and prizes.