This is an archived article and the information in the article may be outdated. Please look at the time stamp on the story to see when it was last updated.
ESTES PARK, Colo. — For more than 20 years, Jim Detterline assisted in the search and rescue of over 1,200 people on Longs Peak.
Detterline, who died recently, served as Longs Peak supervisory climbing ranger and was honored with the prestigious Medal of Valor from the Department of the Interior for his years of service.
"He was a true hero," close friend Austin Porzak said.  "Jim Detterline was more than just a friend and mentor to me. He was a role model and someone I looked up to."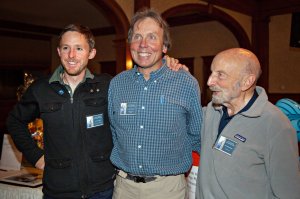 Detterline was hearing-impaired and was an advocate for those with hearing loss.  He gave his time to youth with hearing loss taking them on hikes including to the top of Longs Peak.
Detterline was a longtime resident of the Estes Park-Allenspark area.  His love of climbing took him to the summit of Longs Peak a reported 421 times according to Porzak.