This is an archived article and the information in the article may be outdated. Please look at the time stamp on the story to see when it was last updated.
MORRISON, Colo. -- One person is in custody and a second suspect is being sought in connection with a triple homicide at an Adams County home Wednesday morning.
Jefferson County Sheriff's deputies chased a black Jeep Wrangler before catching up with the vehicle and arresting a man identified as 41-year-old Gabriel Flores, 41, on Wednesday afternoon.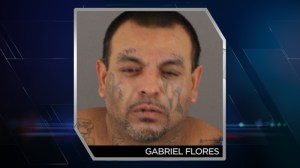 Officials said the vehicle matched the description of one wanted in connection with the investigation into the triple homicide, in which three men were found dead from apparent gunshot wounds.
The pursuit happened about 4:30 p.m. The driver and a second person were apprehended on Rooney Road near Morrison.
The Adams County Sheriff's Office said early Thursday morning Flores was connected to the triple homicide. He was treated at a hospital and is in custody.
Flores is in jail without bond facing first-degree murder and other charges. He is due in court Monday morning.
The Jeep was partially off the roadway and skid marks could be seen on the pavement.  Spokeswoman Jacki Kelly said on Twitter that deputies used a pit maneuver to stop the Jeep.
Also Thursday morning, the Adams County Sheriff's Office said it was seeking a second suspect, Furmen Lee Leyba, 30, in connection with the triple homicide.
He is described as Hispanic, about 6-foot-1 and weighing about 215 pounds. He has several tattoos, including around the front area of his neck.
Leyba is considered dangerous. It's not known if he's armed.
More than a dozen Adams County investigators looked for clues for several hours at a home at 21 Cragmore St., just northwest of the intersection of Interstate 25 and U.S. 36.
Adams County Sheriff's Office spokesman Terrance O'Neill said a 911 call was made by a "hysterical female who said there was a disturbance at the home and hung up immediately." The sheriff's office said the three men found inside the home suffered gunshot wounds.
The victims have not been identified.
Anyone with information on Leyba or the triple homicide is asked to call 720-322-1313.