This is an archived article and the information in the article may be outdated. Please look at the time stamp on the story to see when it was last updated.
JEFFERSON COUNTY, Colo. — Law enforcement noticed that a business robbery in south Jefferson County Saturday was similar to other recent burglaries.
At about 1:07 a.m. Saturday, deputies from the Jefferson County Sheriff's Office responded to a liquor store at 5055 S. Kipling Pkwy. after a report of the alarm sounding.
Deputies arrived on scene to discover the front glass door of the store shattered.
Large landscaping rocks were used to smash the front door, and a cash register, cash and liquor were stolen from the store, said deputies.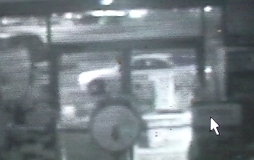 Surveillance photos showed the suspects dressed in work-style gloves, hooded sweatshirts and bandannas over their faces. The suspects drove a white coupe, possibly a late 1990s or early 2000s model Acura.
According to the Jefferson County Sheriff's Office, Lakewood and Wheat Ridge have experienced similar burglaries recently involving a "smash and grab" trend.
Anyone with information regarding these crimes is asked to contact the Jefferson County Sheriff's Office at 303-271-5612.