This is an archived article and the information in the article may be outdated. Please look at the time stamp on the story to see when it was last updated.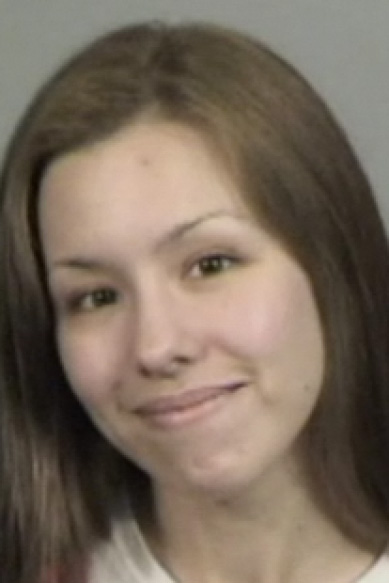 By Graham Winch and Katherine Brennecke
For HLN.com
SISKIYOU COUNTY, Calif. — "No jury is going to convict me … because I am innocent and you can mark my words on that. No jury is going to convict me."
That's what accused murderer Jodi Arias told "Inside Edition" in a jailhouse interview just three months after her ex-boyfriend's bloody corpse was found in his bathroom.
By many accounts, Jodi Arias is a pretty, well-spoken, smart young woman. She's also about to stand trial for shooting Travis Alexander in the face, stabbing him 27 times and slitting his throat from ear to ear.
At her trial, scheduled to begin in January, Arias' attorneys will argue she killed Alexander in self-defense, though they have not offered any details about how they'll try to convince the jury of that. In early statements to police, Arias said she wasn't with Alexander when he died. Later, after police matched a bloody handprint at the scene to her, Arias claimed she and Alexander had been attacked in a home invasion and the masked intruders killed him.
A jury will ultimately decide whether Alexander was the aggressor in the encounter that led to his death, or whether Arias is guilty of a cold-blooded murder deserving of the death penalty.
"I know this might sound creepy, but I hope to get to watch her die someday after she's on death row," Alexander's sister, Tanisha Sorenson, wrote in an email to HLNTV.com.
The victim
Travis Alexander was a young guy with big dreams. He was active in the Mormon Church and well liked by his wide circle of friends.
In April, 2008, less than two months before he was killed, he wrote on his blog, "This Year will be the Best year of my life. This is the year that will eclipse all others. I will earn more, learn more, travel more, serve more, love more, give more and be more than all the other years of my life combined."
His friend Dave Hall says, "Travis was the type of guy to give you the shirt off his back, you know. He always opened his house to you if you ever needed, threw tons of parties, he was a clean-cut, good, wholesome guy and just a great, great friend. Today he'd most likely be married, and he would have kids and what a great father he would make. And it just kills me to think that he's not here with us all because Jodi just couldn't let him go."
Sorenson says, "Travis was an amazing person and a great example for me. His death was so hard for me. We are the closest in age. After his death, I decided to become a better person and become active in our church."
Professionally, Travis Alexander was on the move up through the ranks of a pre-paid legal services company. He was a successful salesman and a motivational speaker.
He was at a Pre-Paid Legal Inc. convention when he caught the attention of Arias, a woman who would become his girlfriend and, later, his alleged killer.
Their story begins six years ago, in the fall of 2006. Alexander noticed Arias at the convention in Las Vegas and introduced himself. She was an aspiring photographer and they were both driven to succeed.
Alexander lived in Mesa, Arizona, at the time, and Arias lived five hours away in Palm Desert, California. But the distance didn't stop them from forging a romantic relationship. Arias says she and Alexander started dating in February 2007.
"He had grown to mean so much to me," Arias told CBS in a "48 Hours" interview. "You know we grew closer and closer and it was a natural progression. It was a serious relationship," Arias said in the jail cell interview. Alexander's friends say Arias began to make his world her own, even converting to the Church of Jesus Christ of Latter Day Saints.
Despite their newly shared faith, which encourages abstinence before marriage, evidence shows they had a sexual relationship. There were steamy, provocative texts back and forth between Alexander and Arias. In the "48 Hours" interview, Arias said she and Alexander videotaped their sexual relations. During the trial, prosecutors are expected to show the jury racy photos of Alexander and Arias and provocative text messages between them.
Something was off
Arias told "48 Hours" she didn't think Alexander's friends were aware of the intensity of their relationship. "Nobody really knows what was going on behind closed bedroom doors except him and I."
Many of Alexander's friends have said they thought she came on too strong, too fast or that they thought there was something "off" about her.
Dave Hall is one of those friends. He met Alexander through work in 2002, and they became fast friends.  Four years later, he met Arias at a company dinner, when she accompanied Alexander as his date. Dave says there was something strange, because Arias seemed to have no friends and never talked about her past.
"I thought 'Ah, there's an attractive girl.' But as the evening went on, I just thought … she might be eye candy on the outside, but she was just very mysterious and I didn't want to judge her at the beginning, but I just thought, her personality is not very… not very talkative. Very quiet, she just had a vibe about her that just was really mysterious and it wasn't until after we started hanging out numerous times and doing events together, that me along with everyone that knew Travis, just said, 'Dude, you can do a lot better. She might be good looking, but this is not someone you want to be in a relationship with.'"
Hall says he witnessed Arias become possessive of Alexander as their tumultuous on-again, off-again two-year relationship developed. "If he talked about another girl or if he looked at another girl… she just had this evil smirk on her face that you could just tell she was the type of person that could smile while she slit your throat, you know. Pardon the pun there, in light of what's going on."
A jealous lover
At some point in 2007, Arias got suspicious that Alexander was seeing other people. She told "48 Hours" she saw text messages Alexander sent to another woman. She broke up with him, but then moved from her home in California to Mesa, where Alexander was still living. Sorenson says Alexander's tires were slashed while he was at another woman's house. He replaced the tires, and they were slashed again at a different location, which she says means somebody was following him around.
Soon after that, a woman Alexander was dating got an email from "John Doe" warning her that her behavior was sinful. It read, in part, "If you let him stay in your bed one more time or even sleep under the same roof as him, you will be giving the appearance of evil," the email read. "You are a daughter of God, and you have been a shameful example. Be thou clean, sin no more."
Arias moved back to California in early 2008, but said she and Alexander maintained a relationship. In the interview with "48 Hours," Arias said Alexander was going to visit her in May, but he postponed the trip. So she went on her own road trip in early June, stopping in Los Angeles to photograph her friend's baby. She had planned to head to Utah after that to visit Ryan Burns, who also worked at Pre-Paid Legal and is a Mormon.
Burns says, "We talked a lot on the phone, but we certainly weren't together or anything like that."
Another of Alexander's friends, Taylor Searle, tells In Session, that around the first week of June 2008, Alexander caught Arias hacking into his Facebook account and told her he wanted her out of his life. Searle says Alexander called him the next day and read the contents of an online chat between Alexander and Arias.
Searle says he asked Alexander, "Aren't you afraid she's going to hurt you?"
But as Arias told "48 Hours," her version of events is different. She said Alexander asked her to come to Arizona to visit him. So she abandoned her plan to see Burns in Utah and headed to Mesa to see Alexander instead.
The killing
In the same interview, Arias said she got to Alexander's house about 4 a.m. on June 4, 2008. She says they talked, went to sleep and woke up around 1 p.m. the next day. She says they had sex and took some explicit photos.
Police recovered the photos taken that day from the memory card of a digital camera found in Alexander's clothes dryer. Those photos are a timeline of Alexander's last hours alive.
At 1:40 p.m., a photo shows Arias posing for the camera nude on Alexander's bed.
At 5:22 p.m., a photo was taken, and deleted, showing Alexander naked in the shower.
At 5:30 p.m., there's another photo of Alexander.
Minutes later, he was dead.
Police say a photo time-stamped 5:32 p.m. shows Alexander's dead body on the bathroom floor.
That bathroom and those details are part of what haunt Dave Hall. He had stayed with Alexander shortly before he was murdered. "I was there in that house. I was staying for a whole week, there in the bedroom next door to where he was murdered. So when I watched the news broadcast, and I hear them talk about the description of the bloody palm print on the wall and in the shower and stuff — I've been there. I've stood there, I've touched those walls, you know, I've been in that bathroom. It's like I've stood there, and it's really eerie to try to get these images out of my mind of my poor friend standing there and being shot, and then stabbed, and I visualize him fighting for his life and trying to get that knife away from Jodi."
Contradictions
On June 9, 2008, Alexander's roommates found his body and called 911. They immediately suspected Jodi Arias of killing him and told the operator about her. "He has an ex-girlfriend that has been bothering him and calling and [s]lashing tires and things like that … Her name is Jodi," said one of Alexander's roommates.
When police first contacted Arias, she told them she wasn't there when Alexander died. She said the last time she saw Alexander was in April 2008. She said they had dated for more than five months, but had broken up in June 2007 because they both had jealousy issues. After the breakup, they continued to have sex but kept it a secret. She told police she last spoke to Alexander on the phone June 3, 2008, between 8 and 9 p.m. while she was driving from her home in Yreka, California, to a conference in Salt Lake City.
Arias' behavior before Alexander died concerned Dave. He says his first thought after finding out Alexander was murdered was that Arias did it.
"Everyone was telling the detectives 'Jodi's involved.' Down in Arizona at the memorial for him, you know, Jodi showed up like this grieving widow, so sad that Travis is gone. And she's posting on Facebook, MySpace pictures and stuff of her and Travis, and how much she loved him, how much she'll miss him and stuff. It just all felt creepy because in the back of your mind you're going, 'I don't know how, but you're involved and I know it.'"
Later, Arias changed her story about the day Alexander died. She said she and Alexander were victims of a home invasion. In a jailhouse interview with "Inside Edition" in September 2008, she says a man and a woman, both wearing masks, burst into the house and attacked both of them. "I witnessed Travis being attacked by two other individuals." But she says she could not pick them out in a police line-up. "They came into his home and attacked us both."
She claims she fled, but was too terrified to call the police. When "Inside Edition" asked why she didn't immediately call the police, Arias said, "I'm not proud that I just left my friend there to be slaughtered at the hands of two other people, I'm not proud of that at all."
Now, as Arias' trial quickly approaches, she's given a third story about that day. On June 22, 2010, her defense attorneys filed a "notice of defenses" notifying the court that they intend to argue that Arias was a victim of domestic violence and was justified in using deadly force to defend herself against Alexander. HLN reached out to Arias' defense team for comment on the accusations and the defense strategy, but has not gotten a response.
Prosecutors aren't buying the domestic violence defense, and neither are a lot of other people.
Sorenson says, "I mean she really thought she wasn't going to get caught and messed up too many times. She thinks she can be that cunning and charming that she'll be able to have a jury believe her after all this, that she can play the self-defense card after all her previous stories didn't work out for her."
In a jailhouse news conference, Arias said she understands that she is facing some convincing evidence. "I need to be honest and the evidence is very compelling. But none of it proves that I committed a murder."
Warning signs
Hall says in hindsight, he saw the warning signs, but he didn't believe Arias was capable of murder. He saw Arias the day after Alexander's death, and thought her behavior was strange. "Ryan [Burns] who lives real close to me, right here in Utah, she started hooking up with him, and so she drove straight from Travis' house up here to have a little make-out session with my buddy up here. Now, he's going to have to testify in court, so there's not a lot he can say to that, but she was up here for her booty call after butchering another human being, and the weird thing is, we were inviting her to go out four-wheeling with us the next day."
Burns confirms Arias did visit him, but he clarifies, "When he says hooking up, he is saying 'Utah Mormon hooking up,' hanging out, maybe going on a date. Maybe not the national understanding of hooking up and getting it on. We never had any sexual anything. That had nothing to do with it. She was coming to get to know me and to hang out."
Hall says part of what seemed so odd about Arias was the way she was dressed. "It's June and she had a long-sleeve shirt on and it's 100 degrees. She had a long-sleeve shirt on and she had bandages on her hand but her hair was completely different. She went from a blonde to a brunette. So, there were three major changes in her appearance. Now, the blonde to brunette, we're like. 'Wow. OK. That's dramatic.' But the long-sleeve shirt … I'm just sitting here thinking, 'Man, I am doing everything I can to cool down, I could never wear long sleeves.'"
Burns says he still finds it hard to imagine that Arias could have killed Alexander and then come to Utah to hang out with him and his friends the next day. "I don't see how she could have killed somebody and said it was self-defense and come and acted normal with me the whole day. There is obviously something wrong if she is saying a murder actually happened and then she spent an entire day hanging out with us and all of our friends after somebody had just been killed. I mean, whichever story she had gone with, the self-defense, the burglary, the 'I wasn't there.' I mean she's had so many stories now, no matter what it was, the way she acted … the only story that would have fit with that, if it was true, was that she was not there. Because the story that she's given now, saying she was defending herself or something horrible happened, I just don't see how she could have acted the way she did."
The trial
Arias has been in jail since her arrest on July 15, 2008, a little more than a month after Alexander was killed. Her trial has been delayed multiple times. Opening statements begin on January 2nd.
Sorenson says she's eager for the trial to start and she believes justice will help her sleep at night. "She has already dug her own grave, and I can't wait 'til her arrogant self is convicted for taking the life of Travis. That is when I will smile and have some kind of closure."
Want more coverage of this story? Click here to visit HLN.com