This is an archived article and the information in the article may be outdated. Please look at the time stamp on the story to see when it was last updated.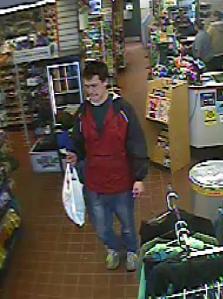 DENVER – Police investigating the killing of Claudia Miller announced Sunday that they have stumbled across another crime in the area – a theft from an office suite.
Lakewood Police have discovered that a wallet was stolen out of an office at 445 Union Blvd. Credit cards from that wallet were subsequently used at several locations. Video footage from those locations shows a white male in his 20s wearing blue jeans, a dark shirt, and a burgundy coat with dark sleeves using some of the credit cards.Video also shows the suspect using a four-door sedan, which may be similar to a late '90s or early 2000 Toyota Camry.
Police said they don't believe the theft from this office suite is related to the homicide of Claudia Miller, but would like to speak to this suspect nonetheless.
Another man considered to be a "person of interest" in Miller's March 5 death was arrested Friday. Warren Dale Watson, 52, was arrested in Caldwell, Idaho, on an outstanding warrant for parole violation, said Lakewood police spokesman Steve Davis.
Authorities in Idaho say they received information the fugitive was at a home in Caldwell. When they went to the house to serve the arrest warrant, Watson ran out from the back of the house.
Officers lost track of him for a short time and put six schools in the area on lockdown. They eventually tracked the suspect down and took him into custody.
While police have not called Watson a suspect in the death of Claudia Miller, they want to question him.
Davis said detectives will travel to Idaho to question Watson sometime this weekend.
Miller, 66, was discovered in a Lakewood office building Tuesday.
Detectives found Miller's 2012 black Honda Accord at an undisclosed north Denver location. The vehicle has since been impounded and was being processed for evidence Thursday afternoon.
Police believe Miller's vehicle was stolen after her murder. The 66-year-old owned a family law practice on the third floor of an office building at 445 Union Boulevard, where her body was discovered by a cleaning crew on Tuesday evening.
In the process of their investigation, detectives obtained surveillance camera images from a Walmart located at 36th and Quebec St., as well as a King Soopers at 28th and Quebec. Those images show a black man who was in possession of a credit card belonging to the Miller.
Police believe the man is the person of interest in this case.
Anyone with information can call Crime Stoppers at 720-913-7867. You can remain anonymous and you may be eligible for a reward of up to $2,000.