This is an archived article and the information in the article may be outdated. Please look at the time stamp on the story to see when it was last updated.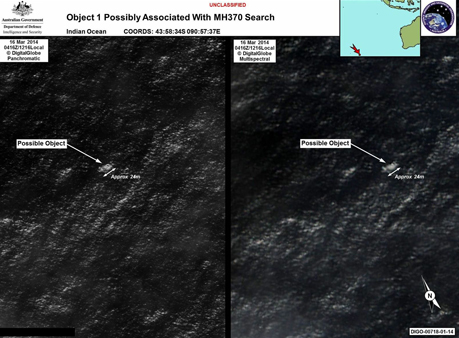 DENVER -- Longmont-based DigitalGlobe said Thursday that images cited by the Australian prime minister believed to be of the missing Malaysian flight 370 came from the company.
"We can confirm that DigitalGlobe has provided imagery to search officials in Australia, and we have been informed by an Australian government official that it was our imagery Prime Minister Abbott referred to in his recent comments," said a company spokesperson.
Satellites captured images of the objects about 14 miles (23 kilometers) from each other and about 1,500 miles (2,400 kilometers) southwest of Australia's west coast. The area is a remote, rarely traveled expanse of ocean far from commercial shipping lanes.
The commercial satellite images, taken Sunday, show two indistinct objects of "reasonable size," with the largest about 24 meters (79 feet) across, said John Young, general manager of emergency response for the Australian maritime agency.
They appear to be "awash with water and bobbing up and down," Young said.
The objects could be from the plane, but they could be also something else -- like a shipping container -- caught in swirling currents known for creating garbage patches in the open ocean, he said.
"It is probably the best lead we have right now," Young said. "But we need to get there, find them, see them, assess them to know whether it's really meaningful or not."
It took four days for the images to reach the authority "due to the volume of imagery being searched, and the detailed process of analysis that followed," the agency said in a prepared statement.
The size of the objects concerned David Gallo, one of the leaders of the search for Air France Flight 447, which crashed in the Atlantic Ocean in 2009.
"It's a big piece of aircraft to have survived something like this," he said, adding that if it is from the aircraft, it could be part of the tail.
The tail height of a Boeing 777, the model of the missing Malaysian plane, is 60 feet.
Mary Schiavo, an aviation analyst and former inspector general for the U.S. Department of Transportation, said she believes Australian officials would not have announced the find if they weren't fairly sure of what they had discovered.
"There have been so many false leads and so many starts and changes and then backtracking in the investigation," she said. "He wouldn't have come forward and said if they weren't fairly certain."
Although the overall search area spans a huge expanse of 3 million square miles, U.S. officials have been insistent in recent days that the aircraft is likely to be found somewhere in the southern Indian Ocean.
CNN contributed to this report.