This is an archived article and the information in the article may be outdated. Please look at the time stamp on the story to see when it was last updated.
WASHINGTON — President Barack Obama has challenged us all to help win the future by out-educating, out-innovating and out-building our competitors in the 21st century.
On Monday, the White House honored three Colorado students for being outstanding ambassadors for making a change in their communities.
Jessica Davidson is the Student Body Vice President at the University of Denver (DU), where she is earning her Bachelor of Arts in Political Science and a Masters of Public Policy Analysis. Jess has led the DU Undergraduate Student Government in comprehensive sexual assault prevention education and policy, including: creating a program to give students access to safe walks home during orientation week, mandating bystander intervention training for student organizations, and working towards affirmative consent policies. Jess believes survivor narratives lead the charge on policy change; this year, she told her story as a survivor on the front page of the Huffington Post in her article, My Rapist Might Not Know He's a Rapist, in which she made a call to action for universities to adopt clear affirmative consent policies. Her advocacy has amplified survivor voices, establishes pathways for student leaders to create meaningful change, and used her own story to spark discussion and deepen understanding of sexual assault on college campuses.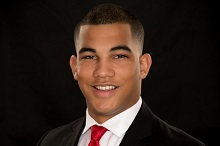 Cody McDavis is a December 2015 graduate of University of Northern Colorado, where he was a member of the men's basketball team. Cody was also a member of the National Student-Athlete Advisory Committee, where he engaged with the It's On Us campaign. He serves as the lead of the It's On Us National Video Competition, which was created in 2014 in recognition of the National Collegiate Athletic Association's (NCAA) partnership with the White House to spread awareness of sexual assault on collegiate campuses. In the two years since the competition began, it has actively engaged college campuses across the nation by challenging students to create a video addressing sexual assault intervention in a creative and unique way. Ultimately, this competition has the goal of establishing collegiate students whom actively intervene in situations where sexual assault could occur and can provide resources to fellow students.
Lisa Napper is a student leader at Howard University from Aurora, Colorado. She co-produced a documentary on the experiences of African American women who are survivors of sexual assault and the challenges they deal with upon arriving on campus. Lisa also hosted Howard's first Take Back the Night event where the documentary was screened and she facilitated a discussion on the issue of sexual assault on Howard's campus and around the world. The following year, she expanded the event to Take Back the Night week, with a survivor's yoga session, a panel with mental health professionals, an open mic night, and an "It's On Us" pledge drive. Lisa is an advocate for engaging men on the conversation on sexual assault and ensuring that victims are empowered to view themselves as survivors. Lisa was invited to share her perspective at a student voices session with former Secretary of Education, Arne Duncan. Lisa has worked as a program's intern for Moms Demand Action against Gun Violence, and as an intern, in the Office of the Chair at the Democratic National Committee.