This is an archived article and the information in the article may be outdated. Please look at the time stamp on the story to see when it was last updated.
DENVER — A male suspect who allegedly stole an unmarked police car after a chase was arrested Wednesday, the Denver Police Department said.
Ravi Anthony Guerrero, 39, was taken into custody for investigation of motor vehicle aggravated theft, second-degree assault and menacing with a deadly weapon.
The incident took place Aug. 28 when the suspect in a hit-and-run fled the scene and escaped in a stolen unmarked gold Chrysler 3000 police car.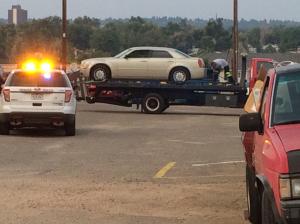 The police car had police equipment and a shotgun inside.  The suspect initially was reported as armed. The unmarked vehicle and the shotgun were recovered in the 4600 block of West Sixth Avenue about 6:30 p.m.
Police said Guerrero was wanted on several charges.
Police said a women involved in the initial hit-and-run was taken to the hospital. The extent of her injuries were not released.