This is an archived article and the information in the article may be outdated. Please look at the time stamp on the story to see when it was last updated.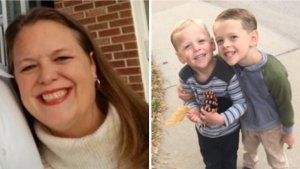 HIGHLANDS RANCH, Colo. — A mother and her two sons were reported missing Tuesday night, the Douglas County Sheriff's Office said.
Jennifer Laber, 36, was reported missing at 8 p.m. after not returning home to to the area of North Hampton Court and Hibiscus Drive in Highlands Ranch.
She was last seen picking up her two sons from Bear Canyon Elementary School about 2 p.m. They were seen leaving through the main door and nothing appeared unusual.
Adam and Ethan Laber are believed to be with their mother. She was last seen wearing a purple sweatshirt and blue jeans.
Adam Laber is 3 years old. He is 40 inches tall and 38 pounds. He has blond hair and blue eyes, and was wearing tan pants with black and a blue winter coat.
Ethan Laber is 5 years old. He is 42 inches tall and 40 pounds. He has light brown hair and blue eyes, and was wearing blue jeans with a gray winter coat.
Jennifer Laber was last seen driving a 2011 silver Chrysler Town and Country with Colorado license plates of 300-RQQ.
Anyone who sees the vehicle or the three people is asked to call 911 or Douglas County dispatch at 303-660-7500.