This is an archived article and the information in the article may be outdated. Please look at the time stamp on the story to see when it was last updated.
BRIGHTON, Colo. -- A high-speed chase through two northern Colorado counties ended with the suspect dead, a police officer injured and a major highway shutdown for hours.
The chase started about 10 a.m. 34 miles away in Greeley, when police spotted the vehicle of a murder suspect out of Grand Junction.
Barbara Blanton-Mares didn't pull over--and that unleashed a pursuit that ended in her death about 30 minutes later in Brighton at U.S. 85 and Weld County Road 2.
"I heard the cops. We heard 'em all," says witness Reina Suniga.
This was the end of the road for a murder suspect driving a stolen red Ford pickup--and the end of a police chase that spanned two counties.
"Be careful. She's already tried to take someone out," a dispatcher said on the police radio.
Witnesses said Blanton-Mares was speeding more than 100 miles an hour on southbound Highway 85.
"At some point, the driver switched from the southbound to the northbound lanes on the shoulder, facing oncoming traffic," said witness and motorist John Carr, who is a photographer for the local newspaper, Brighton Blade.
"It was quite scary to come over that hill and see the truck coming at me as fast as it was driving," Carr said.
Brighton Police tried shutting down intersections in their town to prevent accidents.
"She was in the process of closing it down on that side when she was struck," said Brighton Police Commander Frank Acosta, about an officer whose car was hit by the suspect.
She went to the hospital with minor injuries.
"I seen this cop car right here. All I heard was 'boom!' And I see dust kick up and see the truck go right into that ditch," says Suniga.
Greeley SWAT team members, who were training in the area, moved in, surrounding the truck. Police said they fired non-lethal rounds.
"When I got here, police had the vehicle surrounded at gunpoint," Carr said.
But, Blanton-Marez--a suspect in the death of her ex-husband--was dead herself.
"It was a girl, supposedly shot herself, what I heard," said a witness who didn't want to be identified.
Police could not confirm how Blanton-Mares died.
They'll leave that up to the Adams County Coroner.
The intersection where the accident happened and Blanton-Mares died, is the dividing line between Adams and Weld counties.
The suspect's 50-year-old husband was found dead on Monday in Mesa County.
The Mesa County Sheriff's Office said Monday that Blanton-Marez of Grand Junction was a person of interest in the death of Lawrence Marez, who was found dead inside a home at 2976 Globe Willow Ave. in Grand Junction. His death was ruled a homicide by the Mesa County Coroner's Office.
Likely our #PersonOfInterest in death invest, working to confirm this. #gvcopbeat #GJCity #gjco #mesacounty https://t.co/Rd25Jouec3

— Mesa County Sheriff (@SheriffMesaColo) June 3, 2015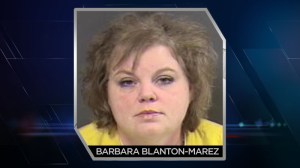 The sheriff's office issued an attempt to locate bulletin for Blanton-Marez, 39, and for a stolen truck she might had been driving. The truck was described as a red 2007 Ford with Colorado license plate 651ZSA.
Video from SkyFOX indicated the crashed vehicle had that license plate.
The Mesa County Sheriff's Office said Blanton-Marez walked away from community corrections on May 29 in Mesa County where she was serving a three-year sentence for felony menacing.
A high-speed chase of a Greeley homicide suspect ended in Brighton on Wednesday, June 3, 2015. (Photo: CDOT camera)

A high-speed chase of a Greeley homicide suspect ended in Brighton on Wednesday, June 3, 2015. (Photo: CDOT camera)

A high-speed chase of a Greeley homicide suspect ended in Brighton on Wednesday, June 3, 2015. (Photo: CDOT camera)

A high-speed chase of a Greeley homicide suspect ended in Brighton on Wednesday, June 3, 2015. (Photo: CDOT camera)

A high-speed chase of a Greeley homicide suspect ended in Brighton on Wednesday, June 3, 2015. (Photo: CDOT camera)

A high-speed chase of a Greeley homicide suspect ended in Brighton on Wednesday, June 3, 2015. (Photo: SkyFOX)

A high-speed chase of a Greeley homicide suspect ended in Brighton on Wednesday, June 3, 2015. (Photo: SkyFOX)

A high-speed chase of a Greeley homicide suspect ended in Brighton on Wednesday, June 3, 2015. (Photo: SkyFOX)

A high-speed chase of a Greeley homicide suspect ended in Brighton on Wednesday, June 3, 2015. (Photo: SkyFOX)

A high-speed chase of a Greeley homicide suspect ended in Brighton on Wednesday, June 3, 2015. (Photo: SkyFOX)
[protected-iframe id="3ba653468375231c20f2e3c7bd13710c-29290497-62452405" info="https://www.google.com/maps/embed?pb=!1m18!1m12!1m3!1d24449.762798964646!2d-104.83658779875161!3d40.003525353539516!2m3!1f0!2f0!3f0!3m2!1i1024!2i768!4f13.1!3m3!1m2!1s0x0%3A0x0!2zNDDCsDAwJzI3LjkiTiAxMDTCsDQ5JzA5LjMiVw!5e0!3m2!1sen!2sus!4v1433350886871" width="100%" height="450" frameborder="0" style="border:0"]