This is an archived article and the information in the article may be outdated. Please look at the time stamp on the story to see when it was last updated.
DENVER -- Dragon Boat Restaurant in Aurora claims to serve the finest Asian cuisine, but their recent health inspections really stunk.
Dragon Boat
The restaurant located on Iliff Avenue failed our Restaurant Report Card for 13 critical health code violations in its April 2015 and April 2014 unannounced inspections.
The inspector said, "Live cockroaches were observed near the water heater and under the dish machine." The April 2015 inspection report said, "Raw fish was stored above ready-to-eat vegetables in the reach-in refrigerator below the sushi counter."
The inspector also said an employee failed to wash hands before handling sushi and the kitchen hand sink was clogged and not available for use.
Our calls to the restaurant were not returned, so we stopped by for a look. Neither the owner nor the manager were at the restaurant to answer questions. The Dragon Boat located at 13697 East Iliff Avenue passed a follow up inspection in May.
Los Dos Tarascos
Los Dos Tarascos earned an "F" on the report card with 12 critical violations during unannounced inspections in April and January of this year.
The April report said, "One dead cockroach was present beneath the bar …" The inspection also said there was no hot water at the facility, shredded cheese, tomatoes and green chile were stored at unsafe temperatures which can make you sick and the soda gun was soiled with slime.
We asked the owner if he was in compliance and he said, "Yes, I have fixed the problems."
Lofteat Café
Lofteat Café in Broomfield scored an "A" with three perfect unannounced inspections in a row. Owner Nahetzin Grujalva said, "I am a clean freak. I like things very organized and extremely clean and when I say extremely clean, I mean it." Loftea Café is located at 11542 Colony Row in Broomfield.
How restaurants appear on our Report Card
Restaurant Report Card airs on FOX31 Denver News at 9 each Friday night and it features health inspections in the city and county of Denver, Jefferson County, Weld County and restaurants under the jurisdiction of the Tri-County Health Department. The Tri-County Health Department includes Adams, Arapahoe and Douglas counties.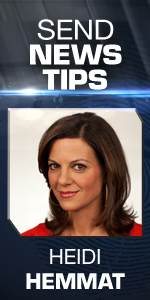 An inspection is a "snapshot" of what is happening during the day and time of the inspection. On any given day, a restaurant could have more or fewer violations than noted in an inspection. Also, at the time of an inspection, violations are recorded and can be corrected prior to the inspector leaving the restaurant. If violations are not corrected, a follow-up inspection is scheduled.
The criteria FOX31 Denver uses to give a restaurant a failing grade includes the evaluation of two unannounced inspections by county health inspectors. A failing restaurant must have five critical violations on their most recent regular inspection and five critical violations on the previous regular inspection. Health inspectors may conduct critical or follow-up inspections, due to the number of critical violations found during a regular inspection. Those inspections may also be considered for our reports. We recognize restaurants with two perfect regular inspections in a row by awarding them an A.
Check your favorite restaurants