This is an archived article and the information in the article may be outdated. Please look at the time stamp on the story to see when it was last updated.
DENVER -- An upscale restaurant in Denver is called Willie G's, but this week the restaurant has earned the name of Willie "F".
Willie G's
The LoDo restaurant failed our report card with 18 critical violations in its last two unannounced inspections in January 2015 and December 2014. The violations in January included a "…line-cook chopping unwashed parsley used for garnish…" The line cooks were also handling ready to eat foods, raw shrimp and then touching their headphones without washing their hands.
An inspector also found "a hotel pan of roast beef" and a pan of cheese curds were held at too warm of temperature and had to be thrown out. The report also said there was excessive food and greasy debris on the kitchen floors, walls and cooking equipment.
Willie G's provided the following statement:
"It is important in the restaurant business and especially to us at Willie G's that the highest safety measures related to the quality of food, cleanliness and overall experience are instituted and followed. This restaurant has always maintained the highest measures of sanitation and safety that have been in place since we opened for business in 1997. Unfortunately, on the day of the inspection, our staff did not adhere to our high standards which is totally unacceptable.  All violations were corrected on-site during the inspection. We will continue to work closely with the Health Department to ensure that the highest measures of sanitation and safety are maintained for our guests."   Willie G's, located at 1585 Lawrence Street in Denver, passed a follow up inspection two weeks ago.
China 2000
China 2000 in Thornton earned an "F" for 11 critical violations in unannounced inspections in January 2015 and July 2014.
In January, an inspector said, "Rodent droppings were observed...in the kitchen." Also, raw beef and raw chicken were held at unsafe temperatures.
There was no soap in the employee restroom or the kitchen sink and there was "grease and grime" on the walls and floors.
Yan Sheng, the owner said, "Well, I'm so sorry that this has happened and we corrected right away. Sheng blamed the mouse problem on a pipeline that is being built in a nearby field. China 2000 on 120th Avenue passed their follow up inspection in late January.
See's Candies - Colorado Boulevard in Denver
The "A" goes to See's Candies on Colorado Boulevard for perfect back to back inspections. While the candy is not made at this location, it is packaged, boxed and put on display. That is just in case you need another reason to eat chocolate.
How restaurants appear on our Report Card
Restaurant Report Card airs on FOX31 Denver News at 9 each Thursday night and it features health inspections in the city and county of Denver, Jefferson County, Weld County and restaurants under the jurisdiction of the Tri-County Health Department. The Tri-County Health Department includes Adams, Arapahoe and Douglas counties.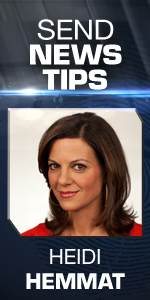 An inspection is a "snapshot" of what is happening during the day and time of the inspection. On any given day, a restaurant could have more or fewer violations than noted in an inspection. Also, at the time of an inspection, violations are recorded and can be corrected prior to the inspector leaving the restaurant. If violations are not corrected, a follow-up inspection is scheduled.
The criteria FOX31 Denver uses to give a restaurant a failing grade includes the evaluation of two unannounced inspections by county health inspectors. A failing restaurant must have five critical violations on their most recent regular inspection and five critical violations on the previous regular inspection. Health inspectors may conduct critical or follow-up inspections, due to the number of critical violations found during a regular inspection. Those inspections may also be considered for our reports. We recognize restaurants with two perfect regular inspections in a row by awarding them an A.
Check your favorite restaurants