This is an archived article and the information in the article may be outdated. Please look at the time stamp on the story to see when it was last updated.
DENVER -- Walton Dounts earned an "F" on Restaurant Report Card for 14 critical violations in its February 2015 and October 2014 unannounced health inspections.
Walton Donuts
In February, a Denver Environmental Health Inspector wrote, "The toilet in the employee restroom would not flush and had yellow liquid that emitted a foul odor."
Also during the February inspection a health expert found "20-25 small flies" in the kitchen food prep area.
The inspection said employees were using hand sanitizer instead of washing their hands and there was no soap or paper towels at the hand washing sink.
The inspector noted a build-up of dough and debris on the food prep table. Our repeated calls to the donut shop were not returned so we went to the location at 6603 Leetsdale Drive and asked about the stinky toilet, but an employee told us the owner did not want to comment and asked us to leave.
Jett Asian Kitchen & Sushi Bar
Jett Asian Kitchen & Sushi Bar located at 5007 East Colfax Avenue in Denver scored an "F" on our report card with 15 critical health code violations in its February 2015 and July 2014 unannounced inspections.
Last summer, inspectors found live and dead cockroaches in the restaurant. In February, an inspector found jalapenos, garlic, cauliflower and oranges covered in mold.
Also, the inspector found a worker eating a snack of cookies and milk in the food prep area.
Several foods including cream cheese, crab sticks, eel and raw beef were thrown out after being held at unsafe temperatures.
Our calls were not returned, but when Heidi Hemmat asked, "Do you still have a cockroach problem?" an employee said, "No, we already fixed it." And, a follow up inspection backs that up with an inspector finding no violations.
Sweet Tomatoes in Littleton
The "A" goes to Sweet Tomatoes in Littleton for no critical violations in back-to-back inspections. "We have high expectations for ourselves as managers. Good isn't good enough, we want to be great," General Manager Lori Wagner said. "We're proud of that. Very proud of that." Wagner said.
How restaurants appear on our Report Card
Restaurant Report Card airs on FOX31 Denver News at 9 each Thursday night and it features health inspections in the city and county of Denver, Jefferson County, Weld County and restaurants under the jurisdiction of the Tri-County Health Department. The Tri-County Health Department includes Adams, Arapahoe and Douglas counties.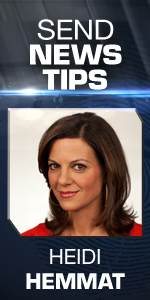 An inspection is a "snapshot" of what is happening during the day and time of the inspection. On any given day, a restaurant could have more or fewer violations than noted in an inspection. Also, at the time of an inspection, violations are recorded and can be corrected prior to the inspector leaving the restaurant. If violations are not corrected, a follow-up inspection is scheduled.
The criteria FOX31 Denver uses to give a restaurant a failing grade includes the evaluation of two unannounced inspections by county health inspectors. A failing restaurant must have five critical violations on their most recent regular inspection and five critical violations on the previous regular inspection. Health inspectors may conduct critical or follow-up inspections, due to the number of critical violations found during a regular inspection. Those inspections may also be considered for our reports. We recognize restaurants with two perfect regular inspections in a row by awarding them an A.
Check your favorite restaurants