This is an archived article and the information in the article may be outdated. Please look at the time stamp on the story to see when it was last updated.
Villa Napoli
Villa Napoli is best known for its pizza and fresh toppings, but health experts were more concerned with the droppings.
The Arvada restaurant received an "F" on our Restaurant Report Card with 15 critical health code violations in its December and June 2014 announced inspections.
In December an inspector said, "Mouse droppings found throughout the establishment … droppings and urine found on several cans and on bags of black olives."
The inspector ordered sausage, pepperoni and cheese to be thrown away after the food was left sitting out overnight. The restaurant was also cited for not cleaning and sanitizing the slicer daily.
The inspector also noted the outside of dough pans had excessive build up and grease to the point some were growing mold. Our calls to the restaurant were not returned so FOX31 Denver's Heidi Hemmat dropped by the restaurant.
Hemmat asked, "It sounds like you had a mouse problem, mouse droppings, mouse urine, do you still have a mouse problem? The manager Sam Conca said, "No, well, we do, we took care of it." Conca said he hired an exterminator, put up traps and fixed the other violations.
A health inspector returned to the restaurant January 21 and said the violations were fixed. Villa Napoli is located at 12014 West 64th Avenue.
US Thai Café
US Thai Café earned an "F" for 14 critical violations in their December and June unannounced inspections.
In December the Jefferson County Health inspector said, "…several critical cross contamination potentials were observed…" including an "employee preparing food outside without proper protection from contamination…" and an "employee was washing rice at the garbage grinder…"
The report ordered the immediate cease and desist of all food preparation occurring outside the facility.
The restaurant owner refused to return our phone calls and did not want to talk to us in person either.
Hemmat asked, "You're saying you don't want to talk about it?" Owner said, "No. The health department already handled it and I deal with them. I don't have to deal with you."
The restaurant passed a follow up inspection January 7 which included the stipulation that the facility owner would take a food safety course and take an active role in training employees.
Govnr's Park Tavern
A grade "A" goes to Govnr's Park Tavern in Denver for no critical violations in its last two regular inspections.
Manager Larron Frazier said, "If we come in every single day expecting the best and doing our best, there's no way that we won't get the best results."
Frazier credits their clean record on high expectations from the top down. "If you're on top of your game and you know what you need to do, then it's something that just comes natural."
How restaurants appear on our Report Card
Restaurant Report Card airs on FOX31 Denver News at 9 each Thursday night and it features health inspections in the city and county of Denver, Jefferson County, Weld County and restaurants under the jurisdiction of the Tri-County Health Department. The Tri-County Health Department includes Adams, Arapahoe and Douglas counties.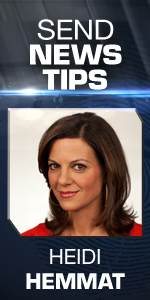 An inspection is a "snapshot" of what is happening during the day and time of the inspection. On any given day, a restaurant could have more or fewer violations than noted in an inspection. Also, at the time of an inspection, violations are recorded and can be corrected prior to the inspector leaving the restaurant. If violations are not corrected, a follow-up inspection is scheduled.
The criteria FOX31 Denver uses to give a restaurant a failing grade includes the evaluation of two unannounced inspections by county health inspectors. A failing restaurant must have five critical violations on their most recent regular inspection and five critical violations on the previous regular inspection. Health inspectors may conduct critical or follow-up inspections, due to the number of critical violations found during a regular inspection. Those inspections may also be considered for our reports. We recognize restaurants with two perfect regular inspections in a row by awarding them an A.
Check your favorite restaurants