This is an archived article and the information in the article may be outdated. Please look at the time stamp on the story to see when it was last updated.
DENVER — Tag, you're it. Tag Restaurant in Lodo failed our Restaurant Report Card with 10 critical violations in its last two unannounced inspections in December and June 2014.
Tag Restaurant
In December, a Denver inspector found the dish machine in a bar "measuring zero … chlorine sanitizer" and "spoons and other equipment stored in cool/warm water…"
The inspector said there were temperature violations with french fries and watermelon held at unsafe temperatures which can result in food poisoning.
Tag's management provided a statement that said in part, "We were made aware of the board of health's findings and took immediate corrective action … Follow up visits by the inspectors proved that all violations had been fully rectified." The restaurant located at 1441 Larimer Street passed a follow up inspection December 18.
Paramount Café
Next we check out Paramount Café, our second "F" of the week. The restaurant had 10 critical violations in unannounced inspections in December and March 2014.
The violations in December included "over fifteen live and two dead carcasses of small winged insects on the walls and ceiling…"
The violations also included a server who was scratching his face then touching bread and another server who was touching her hair and mouth then scooping ice for beverages.
There was brown slime mold and rotten fruit in the dishwasher and areas in the kitchen were excessively dusty and dirty.
Paramount Café said, "We addressed each of the items noted on the inspection report. We will work very hard to make sure those items do not appear on any future inspection reports."
CD's Wings
The "A" of the week goes to CD's Wings in Westminster for back-to-back inspections with no critical violations. Ryan Schwarz said, "Everyone knows that they have to do every day and if it's not done they stay longer. You can't go home until everything is done."
How restaurants appear on our Report Card
Restaurant Report Card airs on FOX31 Denver News at 9 each Thursday night and it features health inspections in the city and county of Denver, Jefferson County, Weld County and restaurants under the jurisdiction of the Tri-County Health Department. The Tri-County Health Department includes Adams, Arapahoe and Douglas counties.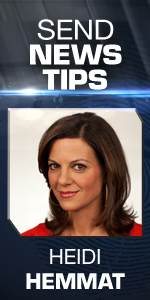 An inspection is a "snapshot" of what is happening during the day and time of the inspection. On any given day, a restaurant could have more or fewer violations than noted in an inspection. Also, at the time of an inspection, violations are recorded and can be corrected prior to the inspector leaving the restaurant. If violations are not corrected, a follow-up inspection is scheduled.
The criteria FOX31 Denver uses to give a restaurant a failing grade includes the evaluation of two unannounced inspections by county health inspectors. A failing restaurant must have five critical violations on their most recent regular inspection and five critical violations on the previous regular inspection. Health inspectors may conduct critical or follow-up inspections, due to the number of critical violations found during a regular inspection. Those inspections may also be considered for our reports. We recognize restaurants with two perfect regular inspections in a row by awarding them an A.
Check your favorite restaurants