This is an archived article and the information in the article may be outdated. Please look at the time stamp on the story to see when it was last updated.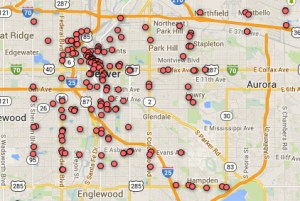 DENVER — Restaurant Report Card this week details Denver's top 10. Has your favorite eatery made the list? These are the health department's top 10 fined restaurants.
Warning: Some of the pictures in the video report above are disturbing.
PDF: Restaurant fines in 2013 in Denver
Keep in mind that fines handed to restaurants from the Denver Department of Environmental Health are the result of inspections. Inspections are a snapshot taken during the time frame the health inspector was in the restaurant for an inspection, which occurs two or three times a year.  The public should be aware that sanitation conditions and practices can change many times within any given business day, depending on personnel, products used, time of day, customer demands, deliveries, volume of business, and an endless variety of other aspects.
Pasquini's Pizzeria
Pasquini's Pizzeria may be known for its toppings, but health inspectors were more concerned with the droppings.
Pasquini's Pizzeria located at 1310 South Broadway is the most fined Denver restaurant with the health department issuing $5,250 in fines.
In October, inspectors found seven critical violations including "More than 200 rodent droppings" a "dead and decaying mouse" and "more than 6 flies on pizzas." When inspectors returned in November, they found, "Food debris, dead mice, grease, mold and rodent droppings observed, but not limited to … floors, walls, ceiling, equipment, shelves, sinks, doors, etc."
Inspectors ordered the facility cleaned or face closure and noted that one of the dead mice found during the October inspection was still visible in November.
The restaurant was featured on our weekly Restaurant Report Card in August and at that time the manager, M.C. Guillemette, agreed to talk to us.  He claimed the inspections were not accurate.
FOX31 Denver's Heidi Hemmat asked, "How does a dead mouse go un-noticed for so long that it is actually growing mold?"  Guillemette said, "I don't think that's the case."   When we asked for comment on this story, our phone calls were not returned.
The year ended with inspectors back at the restaurant on November 27 when health experts found pizza not being held warm enough to keep bacteria from growing.  Inspectors were back at Pasquini's two weeks ago and found no violations.
LINK: Food safety tips
Fruteria & Carniceria La Mexicana
Number two on the most fined list for 2013 is Fruteria and Carniceria La Mexicana located at 706 North Sheridan Boulevard with $5,000 in fines.
Health inspectors shut down the Denver market for three days on November 5, 2013 after finding 16 violations.  Inspectors fined the restaurant for repeating critical mistakes including an ongoing roach and rodent problem.
In a December follow-up inspection, health experts said "two live roaches observed crawling on top of cheese, deli meet cooler and on floor …"  Inspectors returned two weeks ago and marked seven critical violations.
The owner of the restaurant returned our phone call and said, "You are not welcome at my restaurant." He had no comment about the hefty fine.
East Asia Garden
Denver's Environmental Health fined East Asia Garden at 1156 South Broadway $4,500 last year for critical violations.
The Garden failed our restaurant report card in November for 19 violations including a live roach and "more than 200 dead roaches."  A follow up inspection in November found, "More than 30 rodent droppings on floor in the kitchen (under meat slicer) and on shelves and boxes in dry storage."
The infestation was so bad the health department closed its doors for a day. The restaurant made our report card in November and that is when an employee told Fox31 Denver that they hired a new exterminator to rid the restaurant of roaches.
But, when Hemmat checked the kitchen, we caught roaches on camera. When we called the restaurant and asked for a comment, a worker said "We've paid the fine and this conversation is over."  After seven trips by the health department last year the restaurant scored zero violations in December.
Pho on 6th
A Congress park eatery comes in at number four on the most fined list for the second year in a row.  This year it's for dead rodents, rodent droppings and dead roaches.
Inspectors fined Pho on 6th located at 1312 East 6th Avenue $4,250 last year for repeated critical violations.  During a November inspection, health experts noted "…10 dead cockroaches observed on the computer table … (and) mouse droppings" on the floor.
The restaurant was forced to "cease and desist serving food" from May 9 until reopening May 15.  An employee at the restaurant said they had "no comment."  An inspector followed up on November 22 and found no violations.
Tacos Y Salsas
There is a four- way tie for the 5th spot on the most fined restaurant list with four Denver restaurants being levied $3,500 in health department penalties.
Tacos Y Salsas on Federal Boulevard was fined $3,500 in violations last year.  Some of those fines levied were for violations in 2012. In September 2013, an inspector found six critical violations and reminded operator that "produce shall be washed prior to slicing."
The report also said a "soiled used glove observed being stored in a bowl of ready to eat tortilla chips." Fox31 repeatedly called the restaurant for a response, but our calls were not returned.  Inspectors were back at Tacos Y Salsas in October for a follow-up inspection and marked no violations.
Carniceria Fiordalisa
The Carniceria Fiordalisa at 4812 Chambers Road was also issued $3,500 in fines.  On November 13 during an unannounced inspection, health experts found six critical violations including  drying "pork skin and beef" without refrigeration,  no hot water at the "main meat area hand sink" and "the meat walk in cooler shelves and floor need cleaning for raw meat debris and blood."
Our phone calls to management for a comment were not returned. Employees took the notice to heart though and when an inspector was back at the restaurant on November 20, the eatery received a clean slate with no violations.
Landry's Downtown Aquarium
Landry's Downtown Aquarium was also assessed $3,500 in fines last year.
In October, inspectors "observed dead cockroaches in the bakery kitchen" and "live baby (cockroach) in the gasket."  Health inspectors said, (the) "facility is ordered to clean all nonfood contact surfaces" and a re-inspection was required.
Also, inspectors said "a fly strip with approximately 30 dead flies (was) hanging in bakery kitchen."
The final inspection of the year took place in November when inspectors marked one critical mistake.
When we asked for a comment, Keith Beitler, Sr. Vice President for Landry's sent this statement:  "It is important in the restaurant business that food safety measures are instituted and followed. However, we clearly have made mistakes in the past. The staff members responsible for overseeing this part of the business have, without question, failed to abide by our high standards, ultimately letting our patrons and committed employees down. We have spent a great deal of time, money and training to rectify the situation. This is now in the past and moving forward, we promise the community and our dedicated staff, who take pride in our guest experience, that we are committed to maintaining the high standards we have set for ourselves."
Taco Denver
Also, at $3,500 in fines assessed is Taco Denver on Blake Street.
Inspectors were at the restaurant nine times last year after multiple critical violations were found in June.  Health experts said, "Two five-gallon containers of black beans … were disposed of …" because they were held at too warm of temperature. Health experts warn food held above 41F degrees could result in bacteria growing.
Inspectors also found, "Numerous small flies observed throughout the area."
In October, the restaurant passed its inspection with zero critical and noncritical violations.
Taco Denver Manager Mars Simich sent this statement: "The violations that Taco Denver accumulated in the beginning of last year were unfortunate and embarrassing. We started our business with the best of intentions and unfortunately had some significant issues with kitchen management and our kitchens staff. Our current team includes individuals that are like minded in striving for nothing short of excellence. Since those changes were implemented, we have had several health inspections with no issues or violations."
Zocalo Restaurant
The 9th most fined restaurant in Denver is Zocalo Restaurant at 12 East 11th Avenue.
The city fined the restaurant $3,250 last year. In July, inspectors marked 13 critical violations including "flies were observed landing and crawling on clean plates."  Also during the inspection, several food items including "six pans of pico de gallo, six pans of guacamole, four pounds of mahi mahi and three pounds of pork tenderloin were discarded" because they were held at too warm of temperature. Also, "plastic grocery bags are used to store and reheat cooked rice."
Owner Mario Vargas said, "The issues have been corrected."  In August, inspectors issued a clean inspection with no violations.
Rialto Café'
The 10th most fined restaurant last year is Rialto Café' on the 16th Street Mall where inspectors also issued $3,250 in fines.
In October health experts ordered 13 quarts of onion soup and 21 quarts of pot pie mix thrown out for being held at too warm of temperature.
Also, inspectors "observed 20 rodent droppings along the wall."  A Health expert said strawberries and mint were not washed and that she "observed food and greasy debris on several surfaces including the exterior of cooking equipment, floors, dish machine and exteriors of cold holding cabinets."
We contacted Rialto Café' several times for their comment, but our calls were not returned.  Inspectors returned in October and found no violations.
Check Your Favorite Restaurants