This is an archived article and the information in the article may be outdated. Please look at the time stamp on the story to see when it was last updated.
DENVER -- Pacific Ocean International Supermarket earned an "F" on our Restaurant Report Card for the most critical violations found since FOX31 Denver has been airing health inspection reports.
Pacific Ocean International Supermarket
Pacific Ocean scored 30 critical violations in its January 2015 and August 2014 unannounced inspections.
Inspectors marked 14 violations in January including 'rodent droppings and a dead rodent ... in the kitchen below the sink" and "a dried decomposed rodent in a control device."
The inspector saw an employee handling money then handling ready to eat meat.
There was no hot water in the men's or women's restroom and the manager failed to demonstrate knowledge of food safety. Owner Trong Lam told FOX31 Denver's Heidi Hemmat that "yes" the supermarket has corrected the mouse problem, but when he took us for a tour of the facility, our camera captured two dead mice on the floor. Lam said he hired an exterminator. The Pacific Ocean International Supermarket is at 2200 West Alameda Avenue.
Prime Steakhouse
Prime Steakhouse scored an "F" for 17 critical violations found during the most recent unannounced inspections in January 2015 and July 2014.
Last month, an inspector at the LoDo restaurant saw the bartender touch soiled dishes, the register, her glasses and hair then scooped ice for beverages without washing her hands in between tasks.
Lobster bisque, brie, raw oysters and raw salmon were held at unsafe temperatures which can cause food poisoning.
Our calls to the steakhouse were not returned. The restaurant at 1480 Arapahoe Street passed a follow up inspection January 29, 2015.
Sexy Pizza
The "A" goes to Sexy Pizza in Denver for back-to-back health inspections with no critical violations. Sexy pizza located at 1018 East 11th Avenue was last inspected in December 2014.
Owner Kyle Peters said, "It really comes with daily and weekly maintaining and making sure that we are following those guidelines that we set up with as managers and our employees are really following through." Peters credits hard work and dedication and we think that's pretty sexy.
How restaurants appear on our Report Card
Restaurant Report Card airs on FOX31 Denver News at 9 each Thursday night and it features health inspections in the city and county of Denver, Jefferson County, Weld County and restaurants under the jurisdiction of the Tri-County Health Department. The Tri-County Health Department includes Adams, Arapahoe and Douglas counties.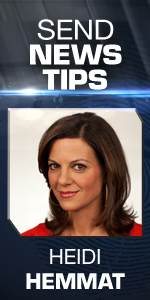 An inspection is a "snapshot" of what is happening during the day and time of the inspection. On any given day, a restaurant could have more or fewer violations than noted in an inspection. Also, at the time of an inspection, violations are recorded and can be corrected prior to the inspector leaving the restaurant. If violations are not corrected, a follow-up inspection is scheduled.
The criteria FOX31 Denver uses to give a restaurant a failing grade includes the evaluation of two unannounced inspections by county health inspectors. A failing restaurant must have five critical violations on their most recent regular inspection and five critical violations on the previous regular inspection. Health inspectors may conduct critical or follow-up inspections, due to the number of critical violations found during a regular inspection. Those inspections may also be considered for our reports. We recognize restaurants with two perfect regular inspections in a row by awarding them an A.
Check your favorite restaurants