This is an archived article and the information in the article may be outdated. Please look at the time stamp on the story to see when it was last updated.
DENVER -- A Wheat Ridge grill earned an "F" on Restaurant Report Card for where an employee was spitting.
Long Shots Bar & Grill
Long Shots Bar & Grill failed our report card for 16 critical health code violations marked during two unannounced inspections in October and April.
The violations in October included, "Bottle of liquor at the bar contained fruit flies, employee observed to rinse mouth and spit in the food preparation sink" and "employees observed to be eating in the kitchen." The inspector also noted, "Food preparation employees observed to repeat the same critical violations on numerous routine inspections."
Long Shots sent us a statement that said in part, "Since the noted violations, we have revised our current training protocol and implemented a new training regimen. This regimen will be strictly enforced. We are confident that the procedures implemented will not only correct any violations seen in the past, but will undoubtedly prevent any reoccurrences." The restaurant, located at 4400 Ward Road, passed a follow up inspection in October.
Jax Fish House
Jax Fish House also earned an "F" on our report card.
Inspectors cited the LoDo restaurant for 13 critical violations in its last two unannounced inspections.
In October the restaurant could not provide documentation that their fish was parasite free. An inspector ordered Jax Fish House to cease and desist serving raw Sockeye Salmon.
The restaurant manager said, "We are no longer serving Fish that would have any contamination like that."
The restaurant inspection also said dressing, butter, BBQ sauce, pumpkin bisque and chowder base were held at unsafe temperatures which can cause food poisoning.
An inspector also said a knife was stored in a crack between a prep table and sink.
The manager said, "All the violations have been under correction. We are working with an independent health inspector as well as the city health inspector, so yeah."
The restaurant is located at 1539 17th Street in lower downtown. In a follow up inspection on November 12th, health experts marked no violations.
Large Marge's Philly Cheese Steak
The "A" of the week goes to Large Marge's Philly Cheese Steak in Wheat Ridge.
The restaurant with perfect back to back inspections is excited to be recognized. Owner Tyler Johnson said, "The last thing any of us want is to be the dirty kid at school if you will. (We) don't want to be the smelly kid. So we got to keep it clean. It's a proud moment to be recognized for doing good, so we like it."
How restaurants appear on our Report Card
Restaurant Report Card airs on FOX31 Denver News at 9 each Thursday night and it features health inspections in the city and county of Denver, Jefferson County, Weld County and restaurants under the jurisdiction of the Tri-County Health Department. The Tri-County Health Department includes Adams, Arapahoe and Douglas counties.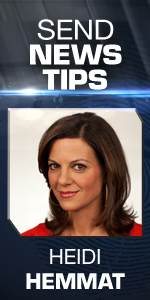 An inspection is a "snapshot" of what is happening during the day and time of the inspection. On any given day, a restaurant could have more or fewer violations than noted in an inspection. Also, at the time of an inspection, violations are recorded and can be corrected prior to the inspector leaving the restaurant. If violations are not corrected, a follow-up inspection is scheduled.
The criteria FOX31 Denver uses to give a restaurant a failing grade includes the evaluation of two unannounced inspections by county health inspectors. A failing restaurant must have five critical violations on their most recent regular inspection and five critical violations on the previous regular inspection. Health inspectors may conduct critical or follow-up inspections, due to the number of critical violations found during a regular inspection. Those inspections may also be considered for our reports. We recognize restaurants with two perfect regular inspections in a row by awarding them an A.
Check your favorite restaurants