This is an archived article and the information in the article may be outdated. Please look at the time stamp on the story to see when it was last updated.
DENVER — Fortune Kitchen scored an "F" on our Restaurant Report Card with 12 critical violations during two recent inspections.
Fortune Kitchen
In June inspectors found "numerous dead cockroaches … (and) live cockroaches were observed in the … front counter."
The inspector also said raw chicken was left out near the sink and cooked chicken was stored in a non-functioning freezer. Both pieces of meat were too warm and that can result in food poisoning.
The food prep area and floor were heavily soiled with dirt and debris.
Fortune Kitchen provided this statement: "We took action by doing daily clean, routine clean, power wash every week, pest control by Terminix company every two weeks for years, all employee are educated in a corrected way."
Fortune Kitchen, located at 12120 East Mississippi Avenue passed a follow up inspection in June.
India's Cuisine
India's Cuisine earned an "F" on our report card with 15 critical violations in this June and July inspections.
The violations include:
Fly strip heavily soiled with dead flies
Employees handling dirty then clean dishes without washing hands and using a common towel to wipe their hands
Tofu, lamb and chicken were held at unsafe temperatures
India's Cuisine sent this statement: "Food safety and health of our customers is our first priority and we diligently take every step necessary to ensure that at our restaurant." The restaurant passed a follow up inspection in July.
Authentic Greek Cuisine
An "A" goes to Authentic Greek Cuisine on South Broadway in Denver for no critical violations in back-to-back inspections.
Owner Ismini Giakouminakis said, "I'm such a freak when it comes to cleanliness and perfectionist, so there's only one way to do business here, my way." The owner credits herself for the high marks and said they deserve the recognition on our report card. Giakouminakis said, "We don't have a fancy stancy place, but we keep it clean, we keep it to code and we keep it the way it's supposed to be, so there you go."
How restaurants appear on our Report Card
Restaurant Report Card airs on FOX31 Denver News at 9 each Friday night and it features health inspections in the city and county of Denver, Jefferson County, Weld County and restaurants under the jurisdiction of the Tri-County Health Department. The Tri-County Health Department includes Adams, Arapahoe and Douglas counties.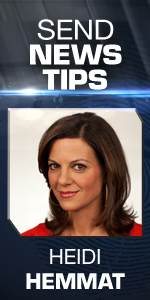 An inspection is a "snapshot" of what is happening during the day and time of the inspection. On any given day, a restaurant could have more or fewer violations than noted in an inspection. Also, at the time of an inspection, violations are recorded and can be corrected prior to the inspector leaving the restaurant. If violations are not corrected, a follow-up inspection is scheduled.
The criteria FOX31 Denver uses to give a restaurant a failing grade includes the evaluation of two unannounced inspections by county health inspectors. A failing restaurant must have five critical violations on their most recent regular inspection and five critical violations on the previous regular inspection. Health inspectors may conduct critical or follow-up inspections, due to the number of critical violations found during a regular inspection. Those inspections may also be considered for our reports. We recognize restaurants with two perfect regular inspections in a row by awarding them an A.
Check your favorite restaurants