This is an archived article and the information in the article may be outdated. Please look at the time stamp on the story to see when it was last updated.
DENVER -- Inside La California in Aurora, health officials found la cucaracha three inspections in a row.
La California
La California, located at 1685 Peoria Street, earned an "F" on Restaurant Report Card for 30 critical violations in March 2015. The inspector said, "A small cockroach was observed behind the ice machine and two large cock roaches were above … the sink."
The inspection report also said moldy limes, tomatillos and cheese were stored with wholesome food. Employees were found handling ice and lettuce with bare hands. The inspector found no hot water at the kitchen sink and there was a container of raw chicken on the ground next to the dumpster.
Our calls to the restaurant were not returned, so we stopped by. The owner would not comment and an employee said, "I don't know anything about it" when we asked about the cockroach problem.
Thai Basil
Thai Basil in Lone Tree also scored an "F" for 14 critical mistakes in its March 2015 and September 2014 inspections.
The health inspector said, "Cockroaches (dead and alive) along with multiple cockroach droppings were found on floors, walls, in drawers and in light fixtures through the kitchen."
The inspector also found areas in the kitchen that were severely soiled with food debris, grease and dust.
The manager of the restaurant blamed some of the violations on a new health inspector. Nolan Eisentrager said, "We had a new lady this time and three of them were things that the last lady told us to do and we had to change for the new lady …"
FOX31 Denver's Heidi Hemmat asked, "How do you explain the roaches?" Eisentrager said, "Warm weather, food. It's something that we took care of …" Nolan said they have fixed the other violations as well.
Jack's & Steamers
The "A" of the week goes to Jack's & Steamers in Arvada for back-to-back inspections with no critical violations. The kitchen manager, Garret McGovern said, "We really stay on it … when the shift changes making sure everything is cleaned out, fresh sanitizer, temps are right and we stay on our game." Jack's and Steamers is located at 8565 Five Parks Drive in Arvada.
How restaurants appear on our Report Card
Restaurant Report Card airs on FOX31 Denver News at 9 each Friday night and it features health inspections in the city and county of Denver, Jefferson County, Weld County and restaurants under the jurisdiction of the Tri-County Health Department. The Tri-County Health Department includes Adams, Arapahoe and Douglas counties.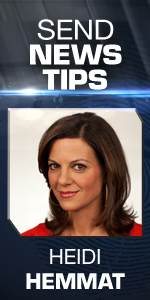 An inspection is a "snapshot" of what is happening during the day and time of the inspection. On any given day, a restaurant could have more or fewer violations than noted in an inspection. Also, at the time of an inspection, violations are recorded and can be corrected prior to the inspector leaving the restaurant. If violations are not corrected, a follow-up inspection is scheduled.
The criteria FOX31 Denver uses to give a restaurant a failing grade includes the evaluation of two unannounced inspections by county health inspectors. A failing restaurant must have five critical violations on their most recent regular inspection and five critical violations on the previous regular inspection. Health inspectors may conduct critical or follow-up inspections, due to the number of critical violations found during a regular inspection. Those inspections may also be considered for our reports. We recognize restaurants with two perfect regular inspections in a row by awarding them an A.
Check your favorite restaurants