This is an archived article and the information in the article may be outdated. Please look at the time stamp on the story to see when it was last updated.
AURORA, Colo. — A website called Better Doctor – usually used to help the public find the best doctor for a particular service and save on healthcare costs – came out with new data on Sunday about the health of U.S. cities.
They ranked the top cities in the U.S. creating a "Fit Cities Index," using data from the CDC and the Trust for Public Land.
If you loved our healthiest cities list, you'll enjoy our newest Fit Cities Index. Check it out on the blog: http://t.co/h5edGw5DzN

— Quest Analytics LLC (@Quest_Analytics) February 16, 2015
Three Colorado cities made the top 85 spots on the list.
Colorado Springs ranked 16th, Denver ranked 6th and Aurora took the number one spot.
According to the website, they used the three factors below to determine how easy it was to have an active lifestyle in each city:
     1. Do other people in the city exercise?
     2. Are other residents fit?
     3. Do residents have access to high-quality parks and outdoor spaces?
The website explained that Aurora ranked first, for the factors below:
The city of Aurora has more than 100 parks as well as six golf courses. The city has a very high park-to-resident ratio, and almost 84% of residents reported that they had exercised in the past thirty days, which is one of the highest numbers in all the cities surveyed.
Denver factors were similar and put the city in the top ten of the list:
Denver has more than 200 parks and 29 recreation centers. Denver's well-maintained parks and culture of exercise (nearly 84% of residents reported exercising in the past 30 days) propelled the city to the top ten.
A CDC source used by Better Doctor, showed obesity rates of the states below.
Colorado showed less than 24 percent obesity in 2015, one of the lowest in the country, matching California.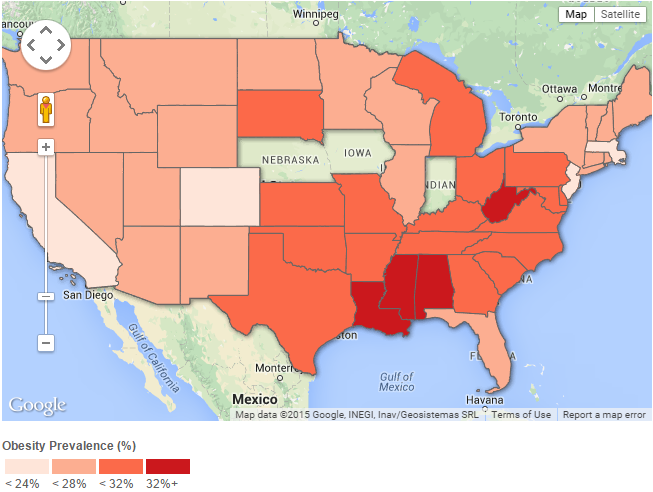 California had five cities in the top ten spots, which the study justified by it's warmer weather which allows for more outdoor activity.
The study also showed the top 10 Most Sedentary Cities, in which, Texas had 5 cities in that short list.
The website also noted that, the average population of the top 10 cities was recorded as 121,000 people, which is more than the average population of the lowest 10 cities.  They said this correlation is logical because bigger cities tend to be more walkable with a younger population.
The website promoted awareness that inactivity can lead to an increased risk of cancer, insulin resistance, heart problems and cognitive decline.