This is an archived article and the information in the article may be outdated. Please look at the time stamp on the story to see when it was last updated.
WASHINGTON — California Sun Dry Foods is voluntarily recalling its California Sun Dry Sun-Dried Tomato Pesto because some jars are not labeled correctly.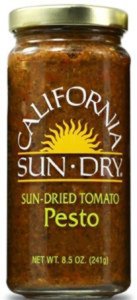 According to the Food and Drug Administration, some of the labels might fail to list milk and almonds, known allergens.
The recalled pesto was sold nationwide. The UPC code is 7-38203-10911-3 with a use-by date of Feb. 25, 2019.
The pesto can be returned for a full refund.