This is an archived article and the information in the article may be outdated. Please look at the time stamp on the story to see when it was last updated.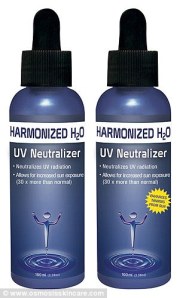 EVERGREEN, Colo. — Could drinkable sunscreen actually work?
An Evergreen company says yes, and is attracting global attention with a product it says proves the concept.
Harmonized H2O, a "UV neutralizer," purports to grant an SPF of 30 for several hours after drinking just 2mL – less than half a teaspoon.
So just what is this stuff? Treated water, apparently.
"If 2 mls are ingested an hour before sun exposure, the frequencies that have been imprinted on water will vibrate on your skin in such a way as to cancel approximately 97% of the UVA and UVB rays before they even hit your skin," product creator Dr. Ben Johnson writes in a blog.
These "frequencies" appear to be radio waves transmitted through the water before packaging. And it's not at all clear how they could protect a person from sunburns.
"We simply do not know why this would work," Dr. Theresa R. Pacheco, an associate professor of the Department of Dermatology at the University of Colorado Anschutz Medical Campus, told the Denver Business Journal. "I have no skin scientific framework to understand this."
The Guardian newspaper went a step further, saying the product "contradicts the most fundamental scientific principles" and should be avoided at "all costs."
Harmonized H2O is not approved by the Food and Drug Administration, major dermatology groups, or anyone else of medical note.
Still, "thousands" of the $30 bottles have been sold, Johnson told the DBJ.
"This is real science, and it's the next new frontier," he said.