This is an archived article and the information in the article may be outdated. Please look at the time stamp on the story to see when it was last updated.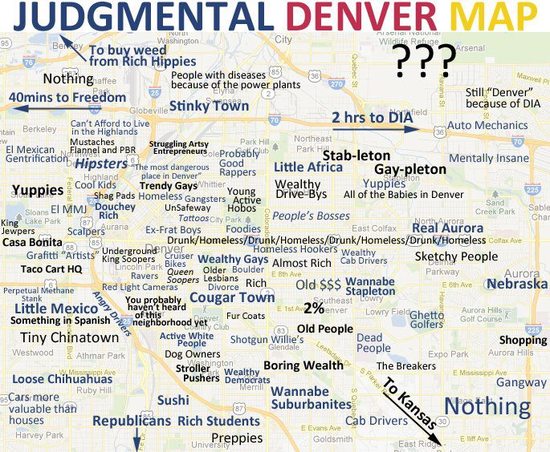 DENVER — It's not exactly the most PC map out there, but the Judgmental Denver Map is circulating around social media and getting plenty of attention.
The map plays off stereotypes that may be familiar to locals.
Instead of identifying cities and destinations like Stapleton or Cherry Creek, the map refers to the places Gay-Pleton and Cougartown.
Comments on the map range from Denverites criticizing it as "inaccurate" to anyone happy to learn they live in the "Active White People" neighborhood, more formally known as Wash Park.
Other parts of the map are less flattering including calling LoDo "Douchy Rich" and areas along Federal Boulevard "Little Mexico" and "Tiny Chinatown."
The creator, who until now had not been publicly identified, said the idea came as a way to better describe the town he loves.
"I meant it to be lighthearted, it's one of those things you need to have a stab at every single group, so it makes all groups equal," said Trent Gillaspie, a standup comedian and inventor of Denver's Judgmental Map.
Click Here to Learn More about Trent and his ideas on his Tumblr site: http://judgmentalmaps.tumblr.com/post/41958719535/denver
In an interview with FOX31 Denver on Monday, Gillaspie reassured doubters that the map isn't meant to be insensitive but instead a chance to show off the diversity of the Denver metropolitan area.
"I think one of my favorite responses was that realtors should have this on their website, because this is what we need to know," added the amateur cartographer.
Gillaspie said he plans to add more maps for more cities and is even considering adding versions for Boulder and other Denver suburbs.
Where do you live? Use the comments field below to tell us what you think about this map.