This is an archived article and the information in the article may be outdated. Please look at the time stamp on the story to see when it was last updated.
AURORA, Colo. — A grand jury in Arapahoe County has decided not to indict a white police officer who shot an unarmed black man last March.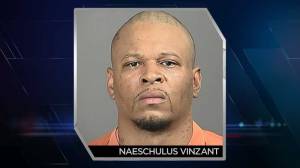 37-year-old Naeschylus Vinzant was a parole absconder who had cut off his ankle bracelet when he was surrounded by the SWAT team on March 6.
He was wanted for a domestic violence and robbery case four days earlier when he shot once by Aurora Police Officer Paul Jerothe.
According to documents released by the grand jury, Jerothe though he was about to be shot when he fired his M4 rifle.
The report states, "With a sudden, jerking movement Mr. Vinzant moved his right arm as if trying to take it out of his pocket while holding something… very similar to the motion of drawing a pistol from a holster."
The family of Vinzant tells FOX31 Denver it's disappointed by the grand jury's decision.
"If he had been a white man he wouldn`t have been shot," said Vizant's mother Paulette Zinnerman, who added, "They`re policemen they`re supposed to protect and serve, and they didn`t do that."
The family's attorney, Qusair Mohamedbhai called the grand jury report one-sided, adding "it does not reflect the complexities and the inconsistencies of the statements of the officers from that day."
Mohamedbhai also said it was inappropriate that officer Jerothe waited nearly a week before giving a statement to investigators.
Aurora Police Chief Nicholas Metz said Jerothe will remain on desk duty while his department conducts an internal investigation.
Chief Metz refused to say if felt his officer's actions were appropriate, calling the incident tragic for everyone involved, "There isn't anyone from Mr. Vinzant's family or the officer's family or the officer himself who hadn't been incredibly impacted by this."
Jefferson County District Attorney Peter Weir presented the case to the grand jury after the Arapahoe District Attorney recused himself citing a conflict of interest.
Weir acknowledged Vinzant was shot within five to six seconds after police surrounded him but said there was "no indication Mr. Vinzant was attempting to surrender."
Vinzant's father Herman Floyd told FOX31 Denver he believes his son was trying to raise his hands to surrender when he was shot. "He was unarmed and they had no knowledge they didn't see no weapon. He wasn't furnishing any weapon so what made them respond that way we have no idea."
Weir said the grand jury's investigation involved 24 witnesses and 22,000 pages of transcripts to determine exactly what happened. "There are discrepancies in the report with respect to the position of Mr. Vinzant's hands. That is one of the reasons we took this to the grand jury."
An autopsy report found cocaine and marijuana in Vinzant's body.
His family promises to file a civil lawsuit alleging wrongful death.