This is an archived article and the information in the article may be outdated. Please look at the time stamp on the story to see when it was last updated.
DENVER — An invasive beetle from Japan is thriving in the Denver metro area and local researchers are asking for help from the public.
The Denver Museum of Nature and Science is encouraging people who find Japanese beetles to collect a few and bring them in so researchers can track the extent of the invasion.
The museum is using the data from "citizen scientists" to compile a distribution map of the beetle in Colorado.
Garden experts say the Japanese beetle feeds on more than 200 species of plants, but they prefer roses and vines.
Colorado State University horticulture expert Robert Cox said repeated years of the pesky pests eating leaves and damaging them can kill plants.
Tony Hahn with Swingle Lawn Care said they are destructive as larvae and as adults.
"The larvae feed on the grass roots. If you don't have roots, you have a dead plant," Hahn said.
The larvae then blossom into adults, which feast on leaves, which then weakens a plant's ability to feed itself, and could eventually kill it, according to Cox.
They are also notoriously difficult to get rid of. Using pesticides can kill beneficial bugs, like honey bees.
Some people resort to picking them off plants one by one and drowning them in soapy water or dropping them in rubbing alcohol.
The Japanese Beetle is about three-eighths of an inch (8-11 millimeters) long with brownish/copper colored wingcases and green metallic front part.
Below the wing cases is a row of white dots on each side, according to the DMNS.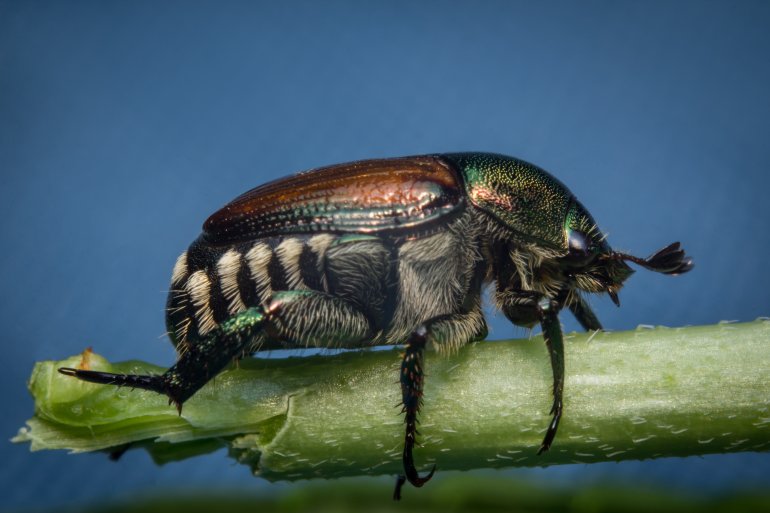 The beetles can come dead or alive in a sealed container or plastic bag, officials said, adding the preferred storage is in 70 percent rubbing alcohol in a tight container.
They can be taken to the security desk at the staff and volunteer entrance. The container should include the address where the bettles were found, when they were collected and by whom.