This is an archived article and the information in the article may be outdated. Please look at the time stamp on the story to see when it was last updated.
FORT COLLINS, Colo. -- Bell ringers for the Salvation Army are used to seeing a variety of donations from pennies to poker chips but for at least a decade, someone in Colorado has been donating a rare gold coin.
The coin, known as a Krugerrand, was donated on Saturday outside a Kings Soopers off of South College Avenue. The generous coin collector worked hard to keep the donation a secret and is believed to have wrapped the coin in a one dollar bill before putting it in a Salvation Army bucket.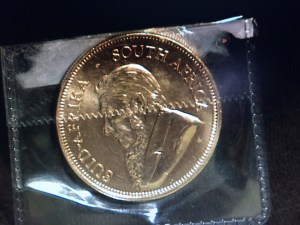 "He's got it in a nice protected case to keep it safe," said Rob Covert, a captain with the Salvation Army of Fort Collins. Covert showed KDVR the coin on Monday and expressed the charity's gratitude for the mystery donor.
"We're extremely grateful for their generosity and their support to the salvation army," added Cpt. Covert.
The charity said for at least a decade someone has been donating the coin around Fort Collins, often to recognize a bell ringer who exemplifies the Christmas spirit. As is tradition, a few days after the donation, the coin's owner sends a representative to the charity who then trades a cash donation to return the coin.
The Salvation Army of Fort Collins is hoping to raise $170,000 for the 2014 holiday season. The coin is expected to bring them $1,500 closer to that goal.