This is an archived article and the information in the article may be outdated. Please look at the time stamp on the story to see when it was last updated.
DENVER -- A gay New Jersey couple files a federal lawsuit in Denver Wednesday against an anti-gay group that used their photo in political attack ads.
Those ads appeared as campaign mailers in Colorado against two candidates who support civil unions.
"This is the best day. I love it," laughs State Sen. Jean White, as she poses in a photograph with husbands, Brian Edwards and Thomas Privitere.
It's all smiles outside U.S. Dist. Court downtown before a press conference on a subject that's eliciting anger.
"Our case is about the defilement of a beautiful moment," says attorney Christine Sun, deputy legal director of the Southern Poverty Law Center.
The civil rights group filed suit over an engagement photo used in an anti-gay campaign mailer.
"It brought back feelings of bullying from my childhood," says Edwards, a plaintiff in the case.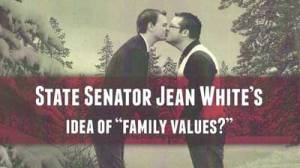 The original picture shows the couple kissing in front of a Manhattan backdrop about two years ago, on May 23, 2010.
"They stole an image of love and turned it into something to promote hate and bigotry and disgust against us and our community," says Privitere.
But it looked different when it was mailed out to Colorado voters. Superimposed over the city skyline were snow-capped evergreens and a question. It read: "State Senator Jean White's Idea of Family Values?"
Then, it was sent out again on another mailer against then Republican candidate for Colorado House Dist. 48. It read: "Jeffrey Hare's Vision for Weld County?"
"The worst part was when I realized, when I found out this was Brian and Tom. These are real people who love each other. And they say, my idea of family values and I tell you, I value all families," says State. Sen. White.
Eugene Delguadio is the founder of Public Advocate of the United States. He's at the center of the spotlight, accused of misusing the private and copyrighted photo.
The couple believes he stole it right from their blog.
"It was a cheap way to get around having to pay for a stock photo for use in their attack ad. This isn't right and not fair," says Kristin Hill, who took the picture.
She is also part of the lawsuit because she says Public Advocate used her picture without permission and without payment.
It's a photo that once represented love, now tainted.
"Tom and I both cringe now when we see our engagement photo, a photo that also lives on the internet as a message of hate," says Edwards.
But both are hopeful for justice.
"We are here today for all families. Our family is a family too. We may be different than yours. But we should still be treated equally," says Edwards.
Public Advocate did not return our multiple messages for comment.
The nonprofit organization has 30 days to respond to the lawsuit.
The plaintiffs are seeking unspecified damages and attorney's fees.