This is an archived article and the information in the article may be outdated. Please look at the time stamp on the story to see when it was last updated.
Several groups are holding fundraisers this weekend to help Deputy Zackari Parrish's family.
CrossFit Loop in Castle Rock will be hosting a fundraising event this Saturday in honor of Deputy Parrish. 100% of the proceeds will go to the Douglas County Fallen Officer Fund. The HERO Workout for Zack was designed by his good friend and CFL Athlete Matt McNairy. They will host 3 classes and they are open to everyone. Times: 08:00, 09:30 and 10:30. Address: 136 S Wilcox St, Castle Rock, CO 80104.
Suds Factory Car Wash in Lone Tree will host Car Wash for a Cause – Benefitting Zack Parrish. On Saturday, January 6, they will contribute $2 for every car wash completed and split the funds to the Zack Parrish GoFundMe account and the Douglas County Fallen Officer Fund. They will be open 8am-6pm. Address: 9171 Westview Rd, Lone Tree, Colorado 80124.
The Castle Rock Police Officer's Association is selling specially designed tshirts in honor of Deputy Parrish. $15 from each T-shirt will go directly to the Parrish family. They already have orders for more than 1,200 shirts. For more information on how to order, follow this link.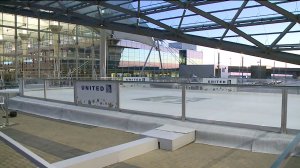 And check this out. You can watch members of the Denver Fire Department, Denver Police Department, Denver Health Medical Center and Denver International Airport play in a 3-on-3 hockey tournament on Monday from 11 a.m. to 1 p.m. It's happening at the DIA Plaza ice skating rink. Proceeds from this fundraiser will benefit Deputy Zack Parrish's family.