This is an archived article and the information in the article may be outdated. Please look at the time stamp on the story to see when it was last updated.
FORT COLLINS, Colo. — The Fort Collins Police Department issued an explanation of a video that has been circulating on Facebook and angering many in the process.
A bystander captured footage of an off-duty police officer pinning a woman to the ground over what turned out to be a speeding violation.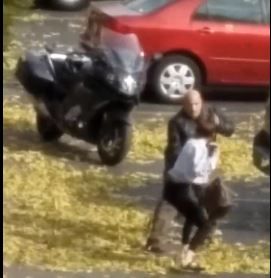 In the video, the man, dressed in brownish pants and a black jacket, is seen talking with the woman as she walks away.
The two continue their conversation near the the officer's motorcycle.
The woman then puts her bag on the ground and is looking through it when the officer grabs her, struggles with her and pins her to the pavement.
The bystander initially posted the video to his Facebook page with the caption: "I just saw a cop throw a ninety pound woman on the ground over an apparent traffic law violation."
His post was later updated to say "the guy held her down for a long time and cuffed her. He had his knee and most of his weight on her back."
The department released a video statement on Sunday.
Video message regarding an arrest on October 6 pic.twitter.com/QuTPwuGpOP

— Fort Collins Police (@FCPolice) October 9, 2017
Spokeswoman Kate Kimble said the off-duty officer was on his way to work when he said he saw the woman speeding through traffic.
He followed the woman until she parked in the 1100 block of West Plum Street. Kimble said the officer identified himself and "physically took the woman into custody."
The bystander's Facebook post criticized the officer's actions and said he didn't know if the man was an officer as he filmed the woman being pinned to the ground.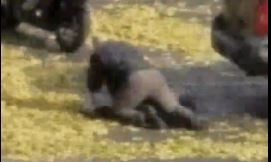 "He did a terrible job of identifying himself," reads the post.
Kimble acknowledged the video "has raised some questions from our community."
The woman was cited for careless driving and obstructing a police officer before being released from custody.
According to policy, the incident is under investigation.
Anyone with further information is asked to call police at 970-224-6020.