This is an archived article and the information in the article may be outdated. Please look at the time stamp on the story to see when it was last updated.
DENVER — Former Swedish Medical Center surgical technician Rocky Allen, who pleaded guilty to swapping out syringes full of painkillers, was sentenced to 78 months in prison on Monday.
Allen was charged with one count of tampering with a consumer product and one count obtaining a controlled substance by deceit and faced up to 14 years behind bars and a $500,000 fine.
Allen was arrested and charged in February after being indicted by a federal grand jury.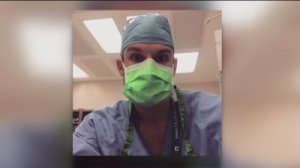 Allen was accused of changing syringes and putting thousands of patients at risk. He worked at Swedish from August 2015 to January and was accused of diverting the painkiller fentanyl from the facility.
In June, it was revealed Allen had tested positive for HIV. The blood tests were released with Allen's consent through the U.S. Attorney's Office.
Results of the blood test show Allen carries HIV (subtype B) and that he is negative for hepatitis B and C, the U.S. Attorney's Office said at the time, but there had been no reported cases of transmission.
Swedish Medical Center is offering free testing for any patients who might have been affected.