This is an archived article and the information in the article may be outdated. Please look at the time stamp on the story to see when it was last updated.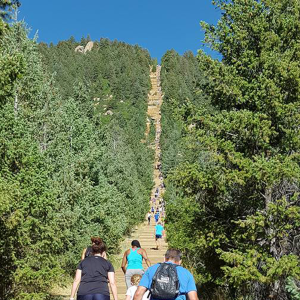 MANITOU SPRINGS, Colo. — The Manitou Springs Fire Department issued an alert on Wednesday to people planning to hike the popular Manitou Incline.
The fire department said it's being called to help hikers in distress on the steep trail more frequently than in previous years.
"Crews from MSFD and our friends at El Paso County Search and Rescue are on their fifth response of the weekend," fire department said on Facebook.
Officials said each rescue often takes three to eight hours and ties up resources that might be needed elsewhere.
Spokesman Jeremy Van Der Merwede told KDRO that too many hikers are not physically prepared or properly equipped to make the ascent.
While only about a mile long, the trail has an altitude gain of 2,000 feet, according to tourism officials.
"This is considered an extreme trail and is an advanced hike!" the Visit Colorado Springs website states.
"If you plan on hiking the Incline, please ensure you are physically capable and prepared to do so. This means keeping yourself well-hydrated and dressing appropriately for the weather. The Incline is a strenuous hike, and is not appropriate for everyone," the fire department stated on Facebook.
"We're proud to have this beautiful and challenging hike in our district, and hope that a little preparation will make it a safe and pleasant experience for the hikers."