This is an archived article and the information in the article may be outdated. Please look at the time stamp on the story to see when it was last updated.
ARAPAHOE COUNTY, Colo. — A man who needed medical help got more than just emergency assistance from a team of firefighters.
A crew with Cunningham Fire Protection District responded to a medical call on Wednesday, the Arapahoe County Sheriff's Office said.
After the male patient was transported to the hospital, the crew with Engine 62 finished mowing the homeowner's lawn.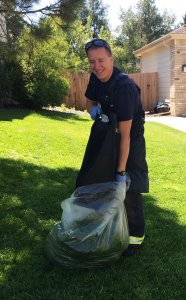 The sheriff's office tweeted photos of the crew tending the lawn and bagging the clippings from the mower.
"We love our fire partners!" the sheriff's office tweeted.
The sheriff's office couldn't provide any details about why the homeowner needed medical help.