This is an archived article and the information in the article may be outdated. Please look at the time stamp on the story to see when it was last updated.
DENVER -- Denver Fire Chief Eric Tade was stabbed Tuesday when a suspect jumped into the unmarked SUV he was driving. He was treated at Denver Health Medical Center and released Tuesday evening.
The Denver Police Department said it arrested 42-year-old Marlene Zacevich-Rodriguez in connection with the attack. She's was in jail Tuesday night for investigation of aggravated assault. The Denver District Attorney's Office will determine final charges to file in the case.
The mugshot of the suspect police provided Tuesday is from an arrest for DUI  in 2009. Denver Police released her current booking photo Wednesday afternoon.
Police and fire officials said Tade was on duty, driving an unmarked black SUV in the area of West Colfax Avenue and Kalamath Street.
Denver Police said he was stopped at the traffic light on westbound Colfax Avenue at North Speer Boulevard when the incident occurred.
The suspect jumped into the SUV and stabbed Tade shortly after 1:30 p.m., police said.
He has a minor hand wound and superficial injury to his leg, according to the Denver Fire Department.
@DenverFireDept Chief Eric Tade stabbed near Colfax...non life-threatening injuries. @KDVR pic.twitter.com/UoGCJVREOx

— Drew Smith (@drewsmithvideo) January 19, 2016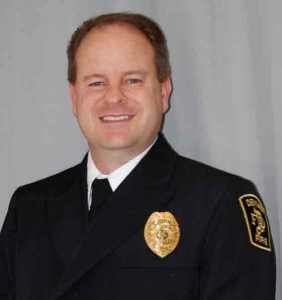 Tade took himself to the nearby fire station where he was treated before being taken to the hospital.
Police said witnesses helped track down the suspect.
Denver Police said Wednesday that continued investigation showed there is no apparent prior connection between the victim and suspect and that the victim was not targeted due to his position as Fire Chief or as a public safety official.
The assault therefore appears to be random and unprovoked, according to Denver Police.
In a statement Tuesday, Denver Fire said: "We are pleased to announce that Chief Tade was released earlier this evening in good spirits and is currently recovering at home. The Denver Fire Department wishes to thank the Denver Police Department, Denver Health Paramedics and Denver Health Physicians for their quick response and extraordinary care.  We are requesting privacy for Chief Tade and his family while he recuperates."
Tade was discharged Tuesday night and has returned to work at Denver Fire Headquarters as of Wednesday.
Tade is a second-generation firefighter who is in his 20th year of service with the Denver Fire Department. He was first appointed to position of fire chief by then-Mayor John Hickenlooper in 2010 and was most recently reappointed by Mayor Michael Hancock in 2011.
The Friends of the Denver Fire Department bio says, "Chief Tade has risen through the ranks of the Denver Fire Department, serving in a variety of assignments which include the Operations Division, Dispatch, DIA/ARFF, and the Administration Division. Fire Chief Tade has previously served for ten years as the Director of Governmental Affairs for Local 858, helping to improve communications between the Union, the Department Administration, and elected officials. Fire Chief Tade also serves as a member of the National League of Cities' Public Safety and Crime Prevention Steering Committee.
He has a degree in fire science and has served as an instructor at various fire leadership conferences. Tade is a graduate of the International Association of Fire Chiefs' Officers Leadership Program. He is a recognized leader in regionalism and intergovernmental agreements relating to fire protection services."
Tade joined the Denver Fire Department in 1992.