This is an archived article and the information in the article may be outdated. Please look at the time stamp on the story to see when it was last updated.
DENVER — The Plains and Front Range have seen a dramatic increase in the fire danger and fire activity with the recent dry and warm period of weather.
The last moisture to fall in and near the city was Feb. 2, nearly three weeks ago. In that time, temperatures warmed to record levels. Thursday set a record with a high of 73 degrees. The month is nearly 5 degrees warmer than its average for Denver.
Since the early-month snowstorm, the eastern half of the state has dried quickly. Plus, much of the mountains have had a dry month too.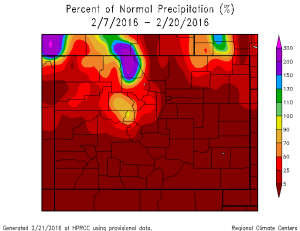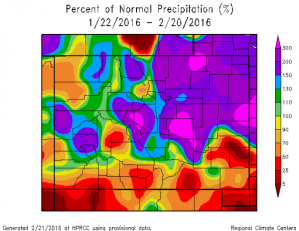 Factor in the damaging wind that was felt on multiple occasions and there are the perfect ingredients for fires, heat, wind and drought.
The outlook has some improvement with a storm system moving through Monday and Tuesday. This will bring some moisture to area.
It likely won't cover everyone with snow or rain, but many areas of the Front Range — particularly the western and southern suburbs — will have moisture.
Until the system arrives, Sunday will have warm temperatures and gusty winds that might fan the current fire near Fort Carson and cause additional fires.
Ft Carson's fire pic.twitter.com/VYgENdXgsC

— EPC Wildland Fire (@epcwildland) February 20, 2016
As of 9 a.m. Sunday, the Fort Carson fire was at 1,200 acres and 10 percent contained. There have been no reports of damage to structures, or that any structure is threatened. The last reported precipitation near the fire area was more than two weeks ago, on Feb. 5.
Grasses and other vegetation are dormant in the winter, and by not holding any water, those plants can quickly ignite. The fire can spread easily in these conditions.