This is an archived article and the information in the article may be outdated. Please look at the time stamp on the story to see when it was last updated.
AURORA, Colo. — The Colorado Bureau of Investigation on Monday issued an Amber Alert for David Puckett, a 6-year-old boy who has been missing since Saturday.
The Aurora Police Department said the CBI agreed to issue the alert because of the amount of time that David has been missing and the impending cold weather.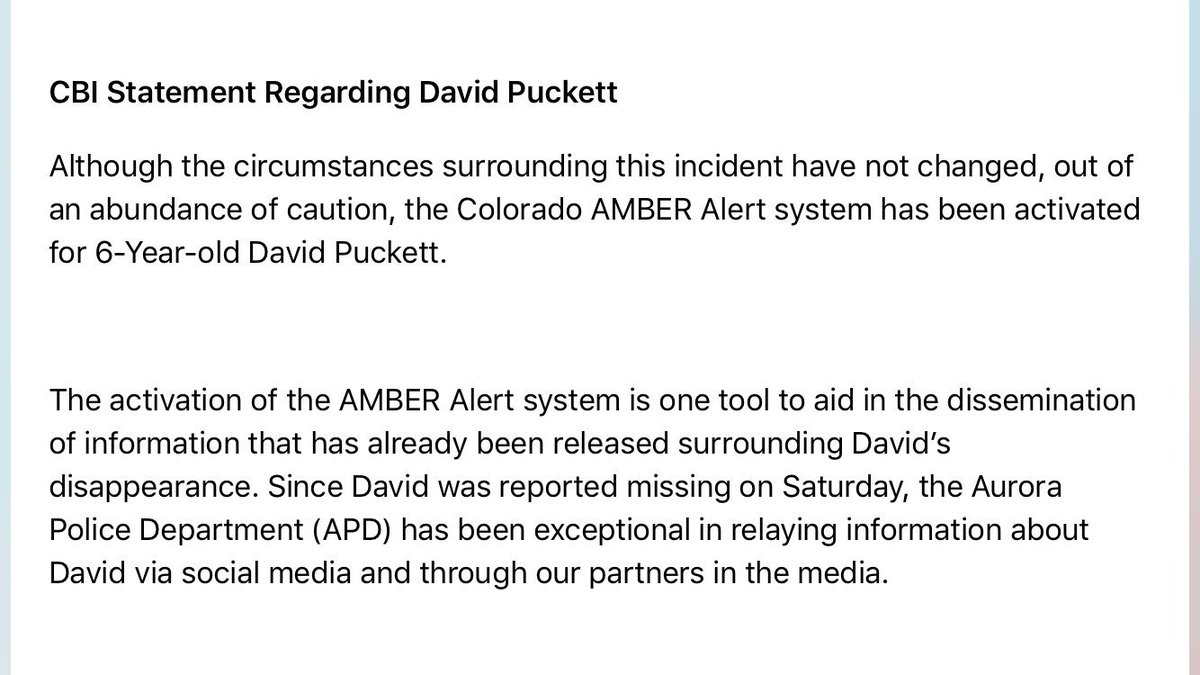 Police asked volunteers to stop searching for David because they are using bloodhounds to try to track him and don't want to compromise that effort, spokeswoman Crystal McCoy said.
Police said they would notify the public through social media when they would like citizens to resume the search.
Investigators said they are canvassing an area with a radius of about 2.5 miles.
On Monday afternoon, officers set up a checkpoint near East Iliff Avenue and South Chambers Road to ask drivers if they had seen the boy.
Police checkpoints are established near Chambers and Iliff pic.twitter.com/xzgozJjZzF

— Michael Konopasek (@MikeKonopasek) January 2, 2017
They are also looking for residential and commercial surveillance video from the area.
More than 150 volunteers helped search for David  on Sunday. He David was last seen at 5:30 p.m. Saturday in the 15700 block of East Amherst Place.
He was last seen wearing camouflage pants, a black shirt, a thin tan coat, and black and orange boots, police said. He is described as 3-foot and 48 pounds, with light brown hair and brown eyes.
Police said he has a slight to moderate learning disability. McCoy said police believe David wandered off.
He has wandered away from school once, McCoy said. Police do not have any recorded instances of him running away from his home.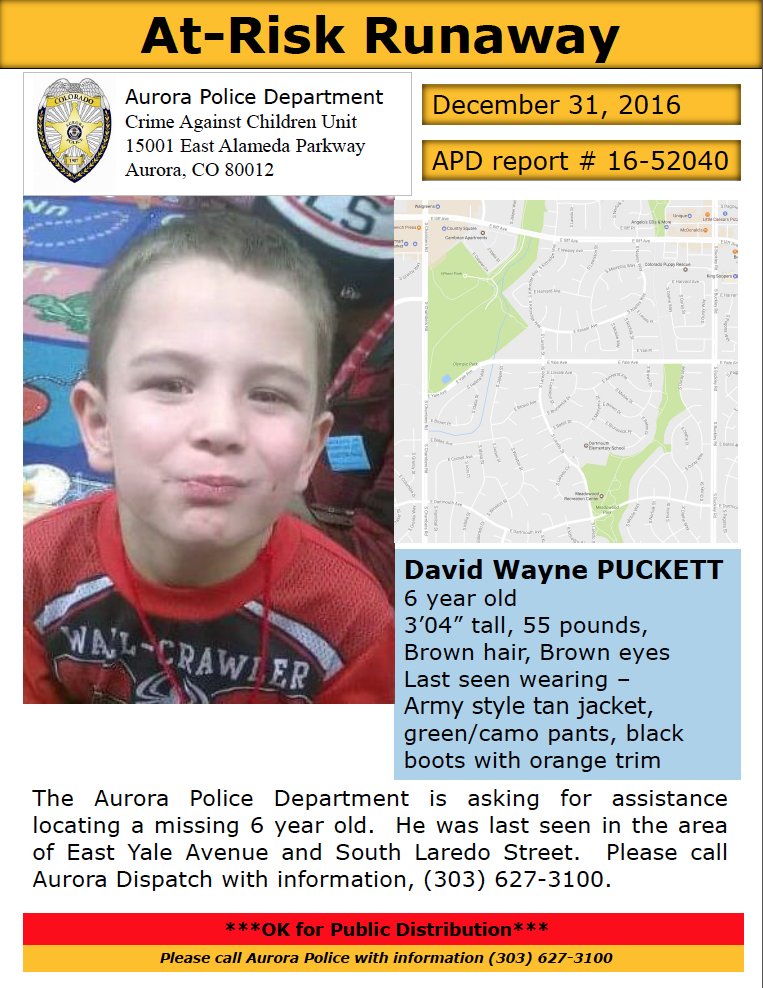 The Arapahoe County Search and Rescue, the National Center for Missing and Exploited Children, the Denver Police Department and the FBI are assisting in the search.
Police said they've used helicopters, drones and bloodhounds to search for David.
https://twitter.com/HaydenTV/status/816003248976969728
Police said they are continuing to work with David's mother, Stephanie Puckett. Police said they do not have any information about David's father.