This is an archived article and the information in the article may be outdated. Please look at the time stamp on the story to see when it was last updated.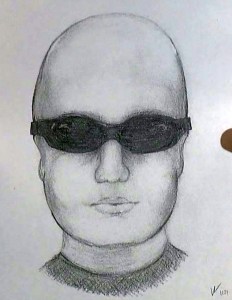 COLORADO SPRINGS, Colo. — The FBI refused to say whether a bomb detonated outside the Colorado Springs NAACP chapter was intended to target the organization, but did release a composite sketch of a man they said was wanted as a person of interest.
"We will not speculate on the motive for the placement of the device, but we would be naive if we did not acknowledge the NAACP, as a national organization, has been the recipient of threats since throughout their existence," said Tom Ravenelle, special agent in charge of the FBI Denver Division.
A witness told the FBI they saw a man with an object walking in the alley behind the building before the bombing. The same man, "returned to his truck empty-handed at the time of the explosion," said Ravenelle.
The FBI is looking for a white man in his 40s with balding hair. The truck was a 2000-model (or older) with side paneling or rails, a dark-colored bed liner and either an open or missing tail gate. The license plate on the truck was either covered-up or missing, Ravenelle said.
A $10,000 reward is being offered to anyone who provides a tip that leads to the arrest and conviction of a suspect.  The FBI announced the reward during a Friday afternoon news conference that also involved representatives from the ATF, the El Paso County Sheriff's Office, the Fountain Police Department and Colorado Springs Police Department.
Tips not voluminous – FBI needs public #naacpbombing #colorado @KDVR

— justinjoseph (@justinjoseph) January 9, 2015
The bomb went off at 10:45 a.m. Tuesday outside the building at 602 S. El Paso St. that houses Mr. G's Hair Design Studios and the NAACP. There were no injuries and "only minimal surface charring to the exterior wall of the building," the FBI said.
An gasoline tank was placed next to the improvised explosive device, but it did not ignite, police said.
The NAACP said on its Facebook page the explosion knocked items off the office walls.
Ravenelle said the bomb was "not sophisticated."
The FBI did look into a report that a man went to the NAACP office recently because he felt the NAACP wasn't representing him "as they should be," Ravenelle said.  The FBI has yet to interview that man, Ravenelle said.
Anyone with information in the case is asked to call the FBI tip line at 303-435-7787.