This is an archived article and the information in the article may be outdated. Please look at the time stamp on the story to see when it was last updated.
LONGMONT, Colo. — Monty Turner, who pleaded guilty in October for his role in the 2013 kidnapping of his then-3-year-old son, was sentenced to 36 years in prison Friday by a Boulder District Court judge.
Turner, 52, agreed to plead guilty to second-degree kidnapping, felony menacing, use of a stun gun and violation of custody.
In May 2013, Turner was hiding in the garage of his estranged wife's home, forced his way inside, then used a stun gun and pepper-spray on Brandy Turner before taking the couple's 3-year-old son Luke.
Police found Monty Turner in Brandon, Manitoba, the next day, where he was arrested. Luke was reunited with his mother the next day.
A month later, Turner was extradited to Longmont.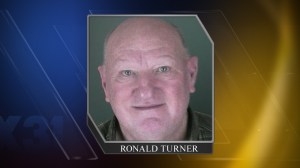 Police also tracked down Turner's father, Ronald, the next day in Missouri and arrested him for his role in the kidnapping.
In April, Ronald Turner was convicted by a Boulder County jury of burglary, violating a custody order, assault, kidnapping, child abuse and accessory to a crime.
In June he was sentenced to 27 years in prison.