This is an archived article and the information in the article may be outdated. Please look at the time stamp on the story to see when it was last updated.
ARAPAHOE COUNTY, Colo. -- An Arapahoe County man sentenced to 114 years in prison after the disappearance of his daughter is seeking a new trial or a lighter sentence.
Aaron Thompson was convicted on 31 charges related to the presumed death of his daughter, Aarone, who was believed to be 6 years old when she disappeared.
The counts included child abuse resulting in death and conspiracy charges related to concealing her death. The girl's body was never found.
Now, lawyers for Thompson are arguing the court deprived Thompson of his Sixth Amendment right to continued counsel of choice.
Attorney David Lane represented Thompson for two years for free, The Denver Post reports.
But when Lane asked the state to cover the expenses of investigators and expert witnesses, a judge ruled Thompson must use a public defender to obtain those free services.
The document filed with the Colorado Court of Appeals cites eight other reasons Thompson's case should be reconsidered, including the claims the court erred by allowing "large volumes of cumulative evidence," "hearsay evidence" and "irrelevant evidence" about the family's financial circumstances.
The filing also questions whether the court erred by imposing consecutive sentences of 12 years in jail followed by 102 years in prison.
Aarone Thompson was reported as a runaway on Nov. 14, 2005.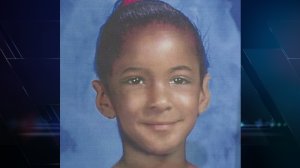 At the time, she lived with Thompson, Thompson's girlfriend Shely Lowe and several other children.
Aaron Thompson cooperated with the investigation, allowed the home to be searched, let investigators take DNA samples from the family and took a polygraph, according to court documents.
Two days after the disappearance was reported, investigators told Lowe they had reason to believe Aarone had been missing for a long time, and that Lowe and Thompson were suspects, records say.
Investigators later said they believed Aarone had been missing for at least two years.
The other children were removed from the home and were interviewed by a forensic interviewer.
According to records, they each admitted Lowe had coached them to say Aarone had been present in the home until she was reported as a runaway, but it wasn't true.
After reports about the case, an inmate at Sterling Correctional Facility told prison personnel that another inmate, Lowe's ex-boyfriend, said Lowe and her new boyfriend had killed a girl.
Lowe's ex-boyfriend later testified that she provided details about Aarone's death. However, Lowe died suddenly in 2006.
Thompson's appeal is scheduled to be heard later this month.