This is an archived article and the information in the article may be outdated. Please look at the time stamp on the story to see when it was last updated.
DENVER — The family of a young woman who went missing three months ago say she was pregnant at the time of her disappearance and renewed their plea Monday for help in finding her.
Kelsie Schelling, 22, was 8 weeks pregnant when she vanished her family said.
"We all love and miss Kelsie so much, and are more deeply saddened to know that whatever happened to her that night also involved her unborn child, my first grandchild, as well," Saxton says.
On the morning of February 4, Schelling went to the doctor and "medical doctors records confirm that she was eight weeks pregnant," Saxton says.
Schelling's boyfriend, Donthe Lucas, is believed to be the child's father, according to her mother.
From cell phone records, Saxton said the family knows that Schelling went to Pueblo on Lucas' request to "speak with her in person."
Schelling did meet Lucas, Saxton said, but "no one has seen or heard from her since."
According to Schelling's mother, cell phone records show that Schelling sent photos of an ultrasound to Lucas and several other family members.
Surveillance video from a Walmart store in Pueblo show Schelling's black 2011 Chevrolet Cruze being parked on the south end of the parking lot, Saxton said.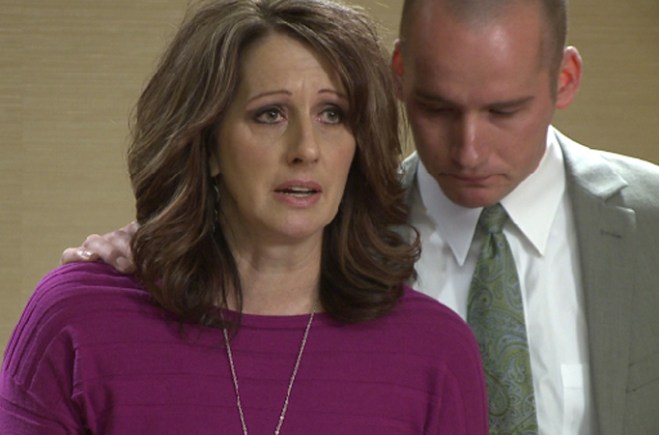 Two days later, on February 6, an unidentified man picked up the car and drove away. The car was recovered the next day at St. Mary Corwin Hospital. It had been abandoned.
The surveillance video has not been released to the public. Pueblo police said it was sealed because it is part of their investigation.
Schelling's family said her credit card was used once, they say, by Lucas.
Lucas was arrested on charges of identity theft. He posted bond and was released, reported KRDO.
The judge in the case has sealed his arrest affidavit.
"She did not run off," Saxton said. "She had nothing to run from, nor does she have any resources with which to live."
A reward of up to $10,000 is being offered for information that leads to an arrest and conviction of the person responsible for her disappearance, Doug Schelling, Kelsie's father said.
Schelling's family has set up a website, helpfindkelsie.com, and toll-free number 1-855-4-KELSIE, they hope will help in finding her.
Schelling is 5-foot-4 and weighs approximately 120 pounds. She also has three tattoos, including a Chinese symbol on her neck, a cursive scrawl on the side of her left arm and a fleur-de-lis on her rib cage.