This is an archived article and the information in the article may be outdated. Please look at the time stamp on the story to see when it was last updated.
DENVER — A couple that was brutally beaten and assaulted along Denver's 16th Street Mall are sharing their story about the attack in an effort to encourage police to step up their patrols along the busy tourist spot.
The incident happened around 9 p.m. Thursday at the intersection of 16th and Curtis streets. The victims spoke in an exclusive interview on Sunday after learning no one has been arrested or charged in the attack.
"I got dogpiled, kicked in the head and punched repeatedly," said one victim who's only being identified as Mitch.
The victims said the assault started after they noticed the teenage suspects were littering and they decided to speak up in an effort to convince the strangers to change their behavior.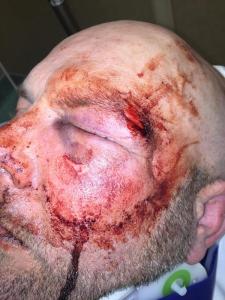 Their comments set off a firestorm and within minutes the teenagers allegedly began beating the couple while dozens of people watched from a nearby restaurant patio.
"I had blood in my eyes, I couldn't see very well, I couldn't even hear very well because my head was throbbing," Mitch said.
Denver police said the investigation remains ongoing and a spokesman was unaware of any arrests.
The department said its officers responded about 14 minutes from when the first 911 call was received. The couple involved is out of the hospital but hopeful police step up their patrols along the mall to protect other tourists.
"At this point I'm feeling like I've been left out in the cold here," Mitch said.
Anyone with information about the assault should call Denver police.