This is an archived article and the information in the article may be outdated. Please look at the time stamp on the story to see when it was last updated.
DENVER — One University of Colorado student has a funny and embarrassing story to tell about her encounter with President Barack Obama Tuesday night.
FOX31 Denver tracked her down and she shared her story with us.
The President shared it with the world at the beginning of his speech at the C.U. Events Center. "I will say I was shaking hands with some folks outside and a young woman, she got very excited and spilled yogurt on me."
The young woman he referred to is CU student Kolbi Zerbest.
Zerbest tells FOX 31 Denver she was visiting a yogurt shop with her sorority sisters when the secret service and police came out and started lining the streets. They realized the President was nearby, so they waited to catch a glimpse after he left a nearby restaurant, The Sink.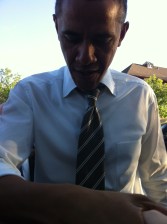 Secret Service agents approached and asked if they wanted a closer view … so they were searched with metal detectors, and were allowed close access. But they were told to put any cups or food they had on the ground, so they did. And when the President approached, that's when a rogue photographer came up and kicked her yogurt all over the Commander in Chief.
"Technically it wasn't really my fault, what happened," Zerbest says. "But the paparazzi kicked the bowl and yogurt spilled all over him. Immediately he was like, 'Awww … I got yogurt on my pants.'  And he was just like, 'whose yogurt was that?'  And immediately I just cover my mouth in shock and embarrassment.  And I was like, 'Oh my God I'm so sorry. That was mine.'"
Kolbi was able to squeeze off a picture of the President right after the yogurt spilling incident. She says he told her she was going to have a funny story to tell her friends.
Related: Student gets picture of a lifetime with the President at The Sink